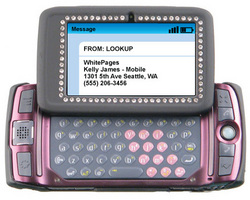 WhitePages mobile products have experienced tremendous growth over the last twelve months, with our Top 10 iPhone app and Android G1 Caller ID app
Seattle, WA (PRWEB) August 4, 2009
WhitePages, the company that makes it easy for people to find each other and connect with confidence, today announced the launch of LOOKUP, the first text messaging service enabling users to identify unknown callers and text senders. LOOKUP is a natural extension of WhitePages mobile strategy, which has helped the company gain nearly 1 million mobile application downloads over the last 12 months based on the popularity of applications for Android, Blackberry, as well as the recently upgraded iPhone application.
"WhitePages mobile products have experienced tremendous growth over the last twelve months, with our Top 10 iPhone app and Android G1 Caller ID app," said Kevin Nakao, VP Mobile and Monetization at WhitePages. "LOOKUP is a natural extension of our mobile strategy, it works on any mobile device with text messaging capabilities, and is very easy to use," he said.
Although a basic form of caller ID is available on most mobile devices, it typically only presents the calling party number, not the name or location of the caller. LOOKUP from WhitePages shows the name and location of unknown numbers, thus helping identify friends and colleagues not in your phonebook, as well as avoiding unwanted calls. LOOKUP from WhitePages is the first text-based service to offer mobile users:
*An easy way to obtain the identity of an unknown incoming number or text sender. Users simply send a text with the unknown number to LOOKUP (566-587).
*LOOKUP is designed to work on any mobile device with texting capability.
*Accurate information, within seconds. The LOOKUP database includes information on over 600 million listings, including hard to find mobile and landline numbers.
Over the last twelve months, WhitePages has been aggressively extending the powerful people and business search features found on WhitePages.com to a variety of mobile platforms, including iPhone, Blackberry, and Android. LOOKUP is unique, however, in that it works on most mobile devices with text messaging capability.
LOOKUP can be used either on a per use basis of $1.99 per match, or as a monthly subscription of $2.99 for unlimited matches.
About WhitePages, Inc.
As the largest and most trusted online directory, WhitePages offers a suite of free mobile and Internet services that makes it easy for people to find and immediately connect with anyone in the U.S. Only WhitePages offers one-click access to more than 200 million adults and powers more than 2 billion searches on over 1,300 partner sites including Verizon, AOL, United States Postal Service, and MSN. For more information, please visit http://www.whitepages.com or visit the WhitePages blog at http://blog.whitepages.com.
###