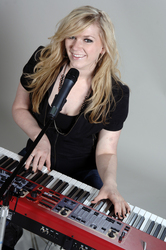 New York, NY (PRWEB) December 15, 2008
That bright red 88 key stage piano of Whitney Wolanin (pronunciation WHOA- Lan- in) will make its way from Nashville to the big city lights of New York and Broadway for a live performance and on air interview with radio hall of fame legend and talk show host Joey Reynolds shortly after midnight on December 17, 2008. Whitney will play some of her original songs and talk about recent things going on with her career.
The Joey Reynolds Show is broadcast live from WOR New York to over 900 US and Canadian metro markets.
On December 16 Whitney Wolanin will also spend the morning hour at 8 a.m. Eastern time on the Doug Stephan "Good Day" Nationwide Radio Show. Doug Stephan's "Good Day" Radio Show is also broadcast nationwide in over 425 radio markets in the US and Canada.
On December 18 Whitney will head for Denver for a live interview on KOSI FM 101 Radio Denver on the popular Murphy and Denise Morning show at 7:40 a.m.
Then on December 19 Whitney Wolanin will headline and perform her original and holiday songs at the Hard Rock Cafe Denver in a sold out show. That show will also include Simon Collins, son of rock legend Phil Collins.
Whitney Wolanin is working on a new EP titled "GIRL." with all original songs, written by her. New songs expected to be on GIRL., will include, "Sunglasses", "Flatline", "Shut Up". "Girl.", may also include an acoustic version of "Loud and Clear" a song which was on the MTV Show "the Hills" written by her and her sister, songwriter and pianist Victoria Wolanin.
During December 2008 the Whitney Wolanin songs "So Close" and holiday song "Frosty the Snowman" from her album "Christmasology™" are receiving extensive airplay at both movie theaters and at RADIO around the US and Canada. FREE Whitney Wolanin Download plus Win Prizes
Flight program-maintenance management services for recording artist Whitney Wolanin at Hard Rock Denver Show by PrivateSky® Aviation Services, Inc.
Official Websites:
Whitney Wolanin Official Website
Whitney Wolanin on My Space
Whitney Wolanin on iTunes
Award Winning Holiday Radio 24/7 Music Site:
Hear Whitney Wolanin and other artists on the "Sounds of Christmas"
# # #