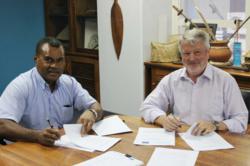 The booking system will maximize SMEs' online exposure and real-time connection with consumers, improving conversions.
Hong Kong (PRWEB) February 07, 2013
An important step in boosting the online sales capabilities of small and medium-sized accommodation providers across the South Pacific was realized this week with the signing of a contract between the South Pacific Tourism Organization (SPTO) and the WHL Group. The project, funded by the European Union under the 10th European Development Fund, will see at least 100 accommodations in 11 countries set up with e-commerce enabled websites.
"Over 80% of all accommodation providers in the Pacific region are locally owned small and medium-scale (SME) operators, and it is extremely important they keep up with the ever growing global development in information technology and the Internet," commented Ilisoni Vuidreketi, CEO of SPTO. "We see a large and growing gap in this area when compared with competing tourism regions and this project is intended to address this."
He added that "For SME accommodation businesses, having a good website with nice information is no longer enough. Websites must have an online booking system and the ability to connect to global distribution. The booking system will maximize SMEs' online exposure and real-time connection with consumers, improving conversions."
These days travelers and tourists increasingly require immediate knowledge of room availability and the ability to book online with instant confirmation. This project will enable SMEs to provide this service through new hotel websites.
Australian company Worldhotel-link.com Pty Limited (the WHL Group subsidiary running this project) has put together a global team to manage this project, led by company founder and CEO Len Cordiner.
"We are very excited about this project," said Mr. Cordiner. "We work in this area around the world through our subsidiary Hotel Link Solutions and have seen firsthand how important it is for the small and medium-scale accommodation providers to master online sales and distribution. This SPTO initiative, in concert with a new regional website and e-marketing focus, is a huge step toward ensuring the Pacific region does not fall behind. The project will greatly strengthen online marketing at both the private-sector enterprise level and government national tourism organization level."
This e-marketing initiative follows a pilot phase that was implemented in Fiji (Yasawa Islands), Tonga, Kiribati (see the featured Tabon te Keekee ecolodge website below as an example) and Cook Islands in 2011 and 2012, under the joint support of SPTO and Pacific Islands Trade and Invest (PT&I) in Sydney. PT&I will continue to support this project with a range of assistance.
The countries to be covered in 2013 are Papua New Guinea, Solomon Islands, Vanuatu, Samoa, Marshall Islands, Federated States of Micronesia, Palau, Timor Leste, Tuvalu, Nauru and Niue. Work will commence in March this year and the project is to run for one year.
"We are grateful to the EU for the development support they have provided towards this activity which is expected to increase private sector growth and contribution of tourism in Pacific Island economies," concluded Mr. Vuidreketi,
About the South Pacific Tourism Organization
The South Pacific Tourism Organization is the mandated inter-governmental organization for the tourism sector in the South Pacific. The SPTO mission is to market and develop tourism in the South Pacific, with special emphasis on improving air and sea access to islands, enhancing the brand "South Pacific," and developing the capacity of government and private sector for sustainable tourism.
About the WHL Group
The WHL Group specializes in e-enabling local tourism operators around the world. Services range from websites for accommodation providers and tour and activity providers to full-featured destination portals and an array of distribution tools, including channel management.
For more information, contact Len Cordiner at len(at)whl-group(dot)com, +61 405184277.