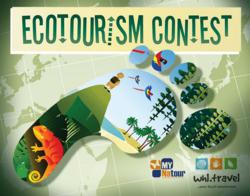 We strongly believe that only together can travelers and the industry make a real difference.
New York (PRWEB) December 17, 2011
From a shortlist of 10 finalists established by popular opinion, the three winners have been named of the ecotourism travel blog contest sponsored by whl.travel, a global online travel-booking network of mindful local travel experts. The goal of the ecotourism travel blog contest was to promote ecotourism and responsible travel through shared stories about real-world adventures. Each of the three winners has now identified an ecotourism adventure prize for two people to be enjoyed courtesy of whl.travel.
Hosted by MyNatour, an online community of people who believe in healthy, authentic and responsible tourism, the ecotourism travel blog contest kicked off in September with an invitation to travelers to share written tales about their most exciting ecotourism experiences. Participants were given a limit of 1,000 words and five evocative photographs through which to tell their stories. They were also required to provide tips about ecotourism in their selected destinations or reflections about how they might help better preserve that particular destination through ecotourism practices.
The shortlist of 10 finalists was reviewed by a panel of judges that included representatives from The International Ecotourism Society (TIES), Tourism Concern, MyNatour and the WHL Group, the parent company of whl.travel. Ethan Gelber, the Chief Communication Officer of the WHL Group, said that he was looking for three qualities when determining the best of the ecotourism travel blog contest finalists: the first was "how much time and effort was taken by the person to think about what an ecotourism experience is;" the second was "how carefully they made a choice of the experience they wanted to live through;" and the third was "whether or not the experience was as rich as they thought it would be."
"By sharing such experiences through the travel blogs contest with fellow travelers, we hope we can slowly start to build awareness among consumers and support for the cause of responsible travel," explained Davide Valin, founder of MyNatour. "One of the most inspiring mottos (by Rabindranath Tagore) here at MyNatour is: 'Tell me, I'll forget. Show me, I may remember. But involve me and I'll understand.' We strongly believe that only together can travelers and the industry make a real difference."
Ecotourism Prize Packages in Off-the-Beaten-Track Places
The three winners of the ecotourism travel blog contest were given the opportunity to choose their prize trips from a selection of six ecotourism adventures offered by whl.travel local partners in Albania, Ecuador, Estonia, Laos and Yemen.
Carrying the top spot for her piece about a volunteer trip in northern India, first-prize author Shivya has selected the highland region of the Albanian Alps as her next mountain escape. Hosted by Outdoor Albania, the whl.travel local connection in Albania, Shivya will set off on a five-day guided trek through some of the country's most vivid scenery. Activities include a ferry trip along Lake Koman, a visit to the Valbona Valley and a trek to the Theth Valley surrounded by high mountain passes and peaks.
Taking second place for her post about an eco-escape to Belize, author Hobbers will head deep into Estonia's Soomaa National Park ('soomaa' translates more or less as 'land of the bogs'). Surrounded by vast floodplains and rivers, she and a companion will enjoy a wilderness experience in an area known for its canoeing, 'bog-shoeing,' beavers and berry picking – all courtesy of Soomaa.com, the whl.travel local connection in Estonia.
The third-place winner was a story about an ecotourism oasis in Terya Bugu, in the heart of Mali. For his vivid descriptions, author Mario Difra will travel from his home in Italy to southwest Laos, a region replete with jungles, raging rivers and outstanding cultural heritage. Once there, he will embark on a high-flying treetop adventure by zipline, followed by a Mekong cruise to the World Heritage Site of Wat Phou – all made possible by Teamworkz, the whl.travel local connection in Laos.
The three ecotourism packages that were not selected were a rainforest adventure in Ecuador, a Galapagos Island tour and a visit to Sana'a and Soqotra in Yemen.
Click here for more information, including videos about the ecotourism travel blog contest winners and their travels.
###