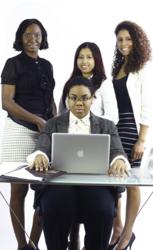 We are showing how gender differences are something of the past and that all that matters is the continued strength of the women before, the women of today and the evolution of the women of tomorrow
Boston, MA (PRWEB) March 20, 2013
The Brown Group Worldwide announced their celebration of Women's History Month and the release of their Community Relations Initiative with community service and event participation. The company seeks to increase awareness of the importance of women within society and business as well as the remembrance of the trend-changing women of the past as the first project under its Community Relations Initiative. The initiative will consist of monthly community relations projects to strengthen the communities the company is present in. "The Brown Group Worldwide is sending a message of existing feminine power. We are showing how gender differences are something of the past and that all that matters is the continued strength of the women before, the women of today and the evolution of the women of tomorrow," said Grace Ejiwale, Event Coordinator of the company who kicked off the celebration with a performance at the Live Love Fashion Show by the Black Women's Health Imperative in Boston, MA.
The women of The Brown Group Worldwide assisted in the preparation of the Walk for Hunger on March 16th with participation in the Sign Painting Event. "Our community service will help motivate those who will be participating in this event," mentioned Bianca Bequer, an media consultant within the company. The signs will be placed along the walk route to provide motivation and inspiration for the participants.
Tia Castellano, a partner in The Brown Group Worldwide offered her thoughts by saying, "Women's History Month helps the world to learn and appreciate the many struggles and accomplishments of women. It is in the power of the past that we continue to develop our future." Castellano has led the expansion of the community relations the company has created, alongside Ejiwale and Bequer. The company plans to participate in many volunteered, partnered, and organized events around their existent areas with the new initiative.
The Brown Group Worldwide LLC. is a public relations and marketing management company that specializes in the exposure of people's public image and relations with the public demographic. The Brown Group Worldwide provides marketing strategies and consultation in the areas of brand marketing, and business efficiency for the accomplishments of business goals. The Brown Group Worldwide also offers managerial services for artists in various fields which focuses on their public relations and team management.