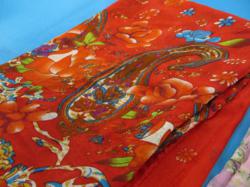 "Those who cannot change their minds cannot change anything." George Bernard Shaw.
Blaine, WA (PRWEB) March 02, 2013
Wholesalesarong.com announces the arrival of new lightweight polyester shawl scarf as additions to their wholesale fashion accessory products for the upcoming summer season. The polyester shawl scarf is multi-purpose. They can be used as shawl, scarf, wrapped dress, or beach sarong swimwear cover-up.
This collection of scarves, shawls and sarongs form parts of its huge wholesale fashion catalog as the company sets its eyes on a profitable shopping season. The lightweight shawl sarong would be the centerpiece of its charge as the company places great confidence in it being the top hot-seller in the market.
Wholesalesarong.com is one of the leading wholesale distributors in Continental America and the company has set up distribution network in both US and Canada. Formed in 1996, wholesalesarong.com is not restricted to just distribution of garment products; they also supply wholesale jewelry, watches and other fashion accessories.
Standing next to a mannequin featuring a light shawl sarong with flowery print, the company spokesman enthuses, "This must be the most multi-purpose fabric one can find under the sun. You can turn a sarong into a shawl, scarf, wrap, beach cover-up and whatever your imagination fancies. And the best part of it all is that once you are done, you can hang it up as an art-piece on your wall, or perhaps use it for more practical purpose like a sunshade on your balcony or lay out as a table cloth."
"Even as we marvel at its versatility, the truth is that we love them because the market loves them. More and more consumers are fascinated with this simple fabric and at wholesalesarong.com here, we have witnessed a steady trend in demands ever since we shipped our first batch from China and Indonesia years ago. The sales usually starts to pick up around now and peaks near the end of spring, and that is why we are confident this fantastic sarong would drive both our top and bottom line in the coming shopping season. We strongly encourage retailers in the country to start stocking up on their shawls and sarongs in order not to miss this super window of opportunity," the spokesman went on.
Indeed the samples that the company puts up are impressive. There are the plain yet elegant looking single color shawls scarves (in red, purple, black, yellow) and there are others with more details like strip patterns, polka dots, interesting motifs like butterfly, sun, moon and more.
Wholesalesarong.com does delivery from its centralized warehouses to retailers via normal UPS ground. Minimum order value applies but the company offers free shipping for orders over $300. Their wholesale scarf product details can be found on this page http://www.wholesalesarong.com/wholesale-shawl.htm.
Company Info
Apparel & Sarong is a US and Canada wholesale distributor supplies Bali arts, clothing, fashion accessory, jewelry, dresses, sarong beach wear apparel, musical instruments to retailers and distributors. Their products include Bali Indonesian pareo, Celtic sarong, tie dye sarong, African kanga, Mundu Pareau, Sri, Lungi, Dhoti, Canga, Surong, and Lava-Lava, pashmina shawls, polyester scarf, infinitive scarf, lightweight beach wrap magic scarf shawls, yarn knitting scarf, neck warmer, wrinkled scarf muffler, cheap thermal scarf, plaid checker evening wraps, punk clothing halter sundress, handkerchief hem dress, Kimono summer dress, Hawaiian tropical women's sun dress, casual dress, halter top beach dresses, handmade crochet clothing, mini skirts, plus size clothing caftan, pants, dancing wear, sundresses, poncho, Caribbean printed Aloha Hawaiian shirt, musical instrument didgeridoo, rainstick, djembe drum, rattle, shaker, maracas, thumb piano, semi-precious stone jewelry, organic jewelry, pendant, charm, earring, bracelet, necklace, silver jewelry, gemstone ring, fashion accessories, jewelry scarf necklace, handbag, barrette hair clip, hair accessory, affirmation banner, bedcover, fashion watch, pocket watch, body piercing jewelry, home decorations, garden supply and Bali handicrafts. More information of their wholesale clothing and jewelry merchandise can be found on their website http://www.wholesalesarong.com.