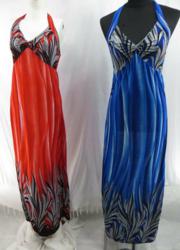 Blaine, Wa (PRWEB) May 15, 2013
Fashion clothing supplier Apparel & Sarong wholesalesarong.com adds new maxi dresses to its wholesale women clothing catalog.
Wholesalesarong.com today announces the arrival of the latest range of maxi dresses for summer. This import from Indonesia consists of mainly summer dresses made of rayon to ensure comfort to the wearers. In addition to the maxi dresses, the shipment also includes sarong halter top, tank sun dress, cap sleeves dress, Bohemian dress, and plus size dress.
Wholesalesarong.com started operating as a web front supplier in 1996 and went on to become one of the leading distributors of cheap wholesale products in the US and Canada. Its primary customers are retailers based in both countries. By outsourcing products from low cost producers from the Far East region like Indonesia, the company has eased the price pressure on local retailers, at the same time it also helps to diversify and enrich the retailers' stock. Today wholesalesarong.com is counted on as the supplier to deliver decent quality products with competitive pricing. On top of apparel products, wholesalesarong.com also supplies wholesale giftware, jewelries, watches, and general fashion accessories.
"It is clear that this shipment is targeted at the summer shopping season, when we expect brisk business for our customers. We have instructed the manufacturers to churn out these maxi dresses using rayon as this is the most comfortable fabric to be used as the weather turns progressively warmer. Practical consideration aside, there is always emphasis on craftsmanship. So consumers can expect a beach dress that fits nicely and manufactured with consistent quality," says the spokesman from wholesalesarong.com.
"Coming from Bali itself, this new line of summer dresses naturally focuses on the local tribal sense of fashion, which is exquisite, I must say. But check out our online stores, the shipment is not just restricted to the Bali or South East Asia influence. We have incorporated a number of designs and patterns so there will be some that resemble more closely to the traditional Balinese beach clothing and also those that reflect even more contemporary fashions," adds the same spokesman.
Indeed regional flavors and individual preferences aside, there are still a lot to choose from. There are the traditional caftan wear where the material flows right up to ankle length, and there are the modern version which feature shorter length, like the tube top, short dress and tank sun dress. For the bottom set, consumers can opt for mini skirts, long skirts or pants. Additionally, there is also rich choice in term of color and cutting preferences. Their online wholesale dresses page on http://www.wholesalesarong.com/wholesale-clothing-dre1.htm provides more detailed information.
Wholesalesarong.com sells its wholesale merchandises through the extensive network of retailers in US and Canada. All orders are shipped within days from its centralized warehouses. The standard delivery mode is via UPS normal ground. For addresses out of mainland US, please check with the company for alternative shipping arrangements.
Company Info:
http://www.wholesalesarong.com Apparel & Sarong is a US and Canada wholesale distributor who supplies Bali arts, clothing, fashion accessories, dresses, sarong beach wear apparel, and musical instruments to retailers and distributors. Products include cheap wholesale clothing, plus sized dresses, swimsuit cover up sarong, scarf, shawl, halter sundress, summer fashion tops for plus size women, handkerchief hem dress, Kimono summer dress, Hawaiian tropical women's sun dress, casual dress, Kimono caftan, maxi dress, bohemian dress, hippie apparel, batik garment, mini skirt, pants, dancing wear, didgeridoo, djembe drum, semi-precious gemstone stone jewelry, costume jewelry, sterling silver pendant, charm, earring, bracelet, necklace, natural organic jewelry, body jewelry, anklet foot jewelry, toe rings, foot wear jewelry, fashion accessory, handbag, barrette hair clip, hair accessory, affirmation banner, bed cover, bangle watch, pocket watch, home decoration, beach sun hats, garden supply and Bali handicraft. For product details please go to their online wholesale catalog at http://www.wholesalesarong.com.