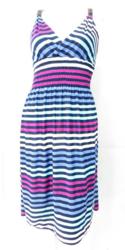 "The future starts today, not tomorrow." -- Pope John Paul II
Blaine, WA (PRWEB) March 13, 2013
Wholesarong.com adds comfy and stylish halter dresses to its latest wholesale fashion wear catalog. This batch of halter dress is indeed an eye pleaser. With its naturally flowing style, the Bohemian style halter maxi dresses exude simplicity and elegance. With materials choice of polyester and spandex, it can be comfortable summer wear as well.
Wholesalesarong.com is recognized as the leading wholesaler in North America, serving wholesale customers in U.S., Canada and worldwide for over 15 years. For this summer collection, their wholesale dress catalog does not just include the trim and proper dress, which covers a collection of conventional wears, round versus V-neck, elegant versus sexy clothes, but also carry regional flavors, like Korean and Bohemian inspired dresses.
Among the many other choices of the summer line include lady print long dress, bohemian style maxi dress, floral summer wear, sleeveless mini dress, sliming elegant lace dress, Korean style casual round neckline fashion top, solids sundress, women's beach dresses in bohemian retro style, etc… In short, the choice is simply endless, there are bound to be something that appeals to your or your customer's fashion sense. Retailers are advised to order early so as to avoid disappointment.
For delivery within US and Canada, the default delivery mode is UPS ground / post mail standard ground. The company is also flexible enough to make special shipping arrangement on customers' request. Wholesalesarong.com also delivers to retailers worldwide. Its website would illustrate a number of countries the company ships to and it also include information on the usual mode of transport for such deliveries. They have good knowledge on the markets they serve, so that shipping arrangement is always being decided on consideration of reliability and cost effectiveness of the shippers.
Of course, wholesalesarong.com does not restrict its merchandize to just halter dress, sundress, beach sarong, casual clothing, etc… In addition to just being a respected distributor of quality and cost effective apparels, the company also has a reputation as a novelty products supplier to countless number of gift shop owners and specialty stores. The company carries Bali artwork, hippie accessories, costume jewelry, fashion scarf, tribal musical instruments, organic jewelry, etc… It is the ideal one stop shop for ambitious business owners who are driven to offer their customers wide and diverse choice in their shopping experience.
Company Info:
http://www.wholesalesarong.com Apparel & Sarong is a US and Canada wholesale distributor supplies Bali arts, clothing, fashion accessory, jewelry, dresses, sarong beach wear apparel, musical instruments to retailers and distributors. Products include cheap wholesale clothing plus sized dresses, swimsuit cover up sarong, scarf, shawl, halter sundress, summer fashion tops for plus size women, handkerchief hem dress, Kimono summer dress, Hawaiian tropical women's sun dress, casual dress, Kimono caftan, maxi dress, bohemian dress, hippie apparel, batik garment, mini skirt, pants, dancing wear, didgeridoo, djembe drum, semi-precious gemstone stone jewelry, costume jewelry, sterling silver pendant, charm, earring, bracelet, necklace, natural organic jewelry, body jewelry, anklet foot jewelry, toe rings, foot wear jewelry, fashion accessory, handbag, barrette hair clip, hair accessory, affirmation banner, bedcover, bangle watch, pocket watch, home decoration, garden supply and Bali handicraft. For product details please go to their online wholesale catalog here.