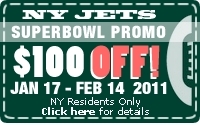 The purpose ... is to let New Yorkers know where to go when they're looking to buy wholesale display cases.
New York, NY (PRWEB) January 22, 2011
The height of the football season is quickly approaching and Discount Showcases is celebrating the New York Jets Super Bowl campaign with a super sale for New York state residents. Running from January 17th to February 14th 2011, the promotion offers $100 off their entire selection of Premier Showcases. The New York Super Bowl Sale is the largest promotion the company has offered to date, and gives every NY resident a sizable discount on any Premier Display Case.
New York residents will receive the discount by entering promo code NY100 while checking out, saving up to 30% off the already low prices. Those looking to take advantage of the offer are encouraged to do so early, as display cases are expected to sell quick.
"The purpose of the Super Bowl Sale is to let New Yorkers know where to go when they're looking to buy wholesale display cases at cheap prices. New York has always been a good market for us, and we're looking to improve it," stated a representative for the company.
If you've been looking for a reason to replace your current glass display cases or just want to make an addition, the promotion makes now an ideal time to buy showcases. With display cases for every occasion to choose from, Discount Showcases is sure to have the cabinet to fit your personal and business needs. With many options available, pinpointing the perfect glass display cabinets has never been a better or more affordable decision.
Everybody knows the importance of presentation. The ability to make display items interest prospective buyers is a powerful advantage in retail and can act as a sparkplug in dramatically increasing sales. The classic selection of glass display cases, trophy cases, and wooden display cabinets at Discount Showcases is a great place to start looking for that sparkplug. Stop by their website today to see the deals for yourself.
###