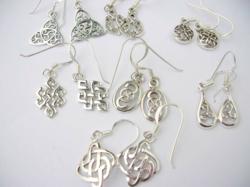 "Look at the world with the vision of peace, love, and compassion. Then the whole world will appear loving and peaceful." --- Sri Sathya Sai Baba
Blaine, WA (PRWEB) March 17, 2013
Wholesale jewelry supplier wholesalesarong.com adds new sterling silver Celtic earrings made in Thailand to expand its comprehensive range of wholesale jewelry catalog. Wholesalesarong.com Apparel & Sarong announces that its shipment of new jewelry stocks is ready for order. The most prominent model out of this batch is obviously the 925 sterling silver Celtic earrings made in Thailand - which the company has mentioned would be central in its strategy to expand their dominance in the wholesale jewelry market. These fine stud and dangling silver earrings are available for both pierced ear and clip-on. Wholesalesarong.com is a trusted name in the retail fashion and gift industry in both US and Canada. It was established in 1996 and it was won accolades from its network of retailers and specialty stores in both countries. The company is well regarded for its business integrity and commitment to product quality and competitive pricing.
"Once again, we are making available a broad range of exquisite wholesale jewelry. These are brought to you from low cost manufacturers from all corners in the Thailand that have passed our stringent quality test. Our staff has traveled far and wide to make sure that only the finest 925 sterling silver earrings are landed in this country, and with the support from our network of retailers, we can order in bulk, which helps a lot in bringing the price further. Overall, this is a desirable situation. It allows us a waffle thin margin but with bulk quantity, we are able to make enough to sustain our operation to service our business customers. But more importantly, the saving here is passed down to the retailers in the end. So they would keep an edge over the other competitors, and provide them more leeway where profit is concerned," explained the company spokesman.
"Some may argue that there could be additional savings if retailers were to do the sourcing in the Far East themselves. The statement is flawed. Without the economy of scale, it is impossible to get to the pricing level that is on offer from us. Another reason that this arrangement can be problematic is that the retailers lack the organizational skills to bring together the manufacturers and subsequently the shipments. We believe our arrangement is the best as this is a win-win situation for all, and we would like to thank the support from our retailers all through these years and we owe our success to them," so said the spokesman.
Wholesale earrings are the mainstay of this shipment. Of course the new catalog also covers the other hot sellers in the market. Retailers nationwide can now stock up on a whole host of products like fashion jewelry, garment clothing, watches, Bali arts, etc… Among the collection of wholesale sterling silver jewelry, there is also the popular costume fashion jewelry, island surfer jewelry, gemstone jewelry, natural organic jewelry, women's wrist bracelet bangle watches and men's pocket watches and more.
All orders are delivered via UPS standard group from its warehouses. Apparel & Sarong also does business with overseas clients. For detailed listing of countries wholesalesarong.com ships to, please refer to their website.
Company Info
Apparel & Sarong is a US and Canada wholesale distributor supplies Bali arts, clothing, fashion accessory, jewelry, dresses, sarong beach wear apparel, musical instruments to retailers and distributors. Their sterling silver jewelry products include cz silver earring, mother of pearl silver earrings, Celtic pagan earrings, turquoise earrings, Balinese hoop earrings, semi-precious gemstone pendants necklaces, seashell bracelets, Marcasite sterling silver pins and brooches, silver snake chains, love heart jewelry charms and more. Their wholesale clothing products include Bali Indonesian pareo, Celtic sarong, tie dye sarong, African kanga, Mundu Pareau, Sri, Lungi, Dhoti, Canga, Surong, and Lava-Lava, pashmina shawls, polyester scarf, infinitive scarf, plus sized dresses, swimsuit cover up sarong, scarf, shawl, halter sundress, summer fashion tops for plus size women, handkerchief hem dress, Kimono summer dress, Hawaiian tropical women's sun dress, casual dress, Kimono caftan, maxi dress, bohemian dress, halter top beach dresses, handmade crochet clothing, mini skirts, plus size clothing caftan, pants, dancing wear, sundresses, poncho, Caribbean printed Aloha Hawaiian shirt. More information can be found on their website http://www.wholesalesarong.com