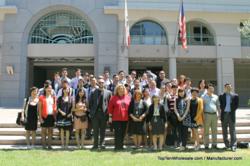 (PRWEB) September 04, 2012
TopTenWholesale.com and Manufacturer.com teamed with the China Chamber of Commerce for Import and Export of Textiles in conjunction with the LA Fashion District, the Fashion Institute of Design and Merchandising (FIDM), the California Market Center to bring U.S. buyers direct access to over 40 of the most premier textile/apparel exporters and manufacturers from several regions across China. The delegation toured FIDM to explore new education and partner programs, explored logistics and sales opportunities at the CalMart, toured the wholesale district in Los Angeles and then concluded with a Supplier Matching event at the Watermarke Towers.
"Bridging the barriers in global trade is a mission we are consistently dedicated to," said TopTenWholesale/Manufacturer.com CEO Jason Prescott. "The opportunities the China Chamber of Commerce for Import and Export of Textiles brings to importers, brands and entrepreneurs in the USA are invaluable," he added. "Locating quality factories and business relationships is always challenging, and it's our duty to see that new trading partners can be found that bring value to all parties involved."
"The CCCT is very excited about working with TopTenWholesale.com and Manufacturer.com on this inaugural post Magic supplier matching and networking event," said Mr. Chen Zhi Rong, CCCT Vice Director. "Their reputation for fostering trade between China and the USA is solid, and we are looking forward to showcasing our premier textile and fashion factories for new opportunities with trading partners in Los Angeles and the USA."
This inaugural event featured a Supplier Matching Cocktail Party, which was a rare opportunity for U.S. buyers to meet face-to-face with factory owners and government officials who can open the doors to a premier group of suppliers from China. Attendees met over 40 manufacturers from China in a VIP setting after touring FIDM, The California Market Center and The Los Angeles Fashion District.
Offering Private Label and Design Services, as well as incredible savings on current collections, these select manufacturers were in Los Angeles for one evening only on the tail end of a U.S. trip exhibiting their products at Sourcing at Magic in Las Vegas, NV..
Interpreters were provided, and the event offered free Trade Manager Services to assist with post-event communication. All factories have been verified as reputable by TopTenWholesale.com and the CCCT. Buyers made valuable contacts that will open new doors for future success and additional new trade initiatives.
The matching event was preceded by a tour of the Los Angeles Fashion District and introductions to the area's fashion institutions starting at noon, including a showroom tour and company introductions to The California Market Center, the hub of the Los Angeles fashion industry. The CMC is home to hundreds of wholesale showrooms for fashion, textiles, gifts and home décor, and also includes a range of offices, studio spaces, fashion design schools, restaurants, shops and special events venue.
The highlight of the event was a tour of the Los Angeles Wholesale Fashion District, the largest wholesale district in the USA with sections for apparel and accessories, textiles, flowers and general merchandise.
About TopTenWholesale® and Manufacturer.com®
TopTenWholesale.com and Manufacturer.com are manufacturing and wholesale trade platforms that connect buyers and sellers in over 200 product categories. Privately held and founded in 2005 by JP Communications INC, over 3 million businesses utilize trading tool for sourcing in more than 190+ countries and regions. JP Communications INC is headquartered in Los Angeles, California, and has 4 branch offices throughout China.
About China Chamber of Commerce for Import and Export of Textiles
The China Chamber of Commerce for Import and Export of Textiles was established in 1988 and has a membership of over 11,000 companies, representing 70 percent of China's total import and export trade in textiles and clothing. CCCT represents the best of China's textile and clothing sector in international trade and has also been devoted to promoting China's textile and clothing trade by actively helping its members deal with trade-related problems and safeguards in the best interests of the industry and all concerned.