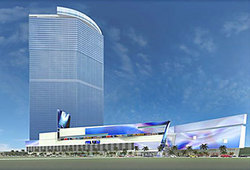 A lot of people are going to put money from this failed project into their pockets.
Zephyr Cove, NV (PRWEB) September 28, 2010
The Las Vegas dream of the Fontainebleau has cost more than $2 billion, and was about 70 percent complete when developers filed for Chapter 11 protection in June. An auction is scheduled for October 6th in Las Vegas.
The untold story of value is with Aaron Smith, President of AMI (Architectural Materials, Inc.) – who is left with over 1000 5-star guest suites that were manufactured for the top-of-the-line Fontainebleau dream center. The materials were never installed.
AMI is selling all the new construction materials at Absolute Auction to the highest bidders regardless of price October 6th at his Las Vegas Warehouse.
AMI owns all the solid wood doors, hardware, tempered shower enclosures, metal fasteners, desks, tools, trim and everything one would want to either build a 1000 plus luxury condo—or enough supplies to refurbish 100 modest sized Marriott Hotels.
Smith is essentially giving it all away on October 6th in Las Vegas at their huge warehouse at 4030 Industrial Center Drive. Everything will be sold to the highest bidders, regardless of price, at a live Absolute Auction that will be broadcast globally via the internet. Bidders can purchase one to 1000 rooms of the highest grade materials for pennies on the dollar.
When AMI's president was asked how he could afford to give it all away at auction, his comment was simple, "Well, we already swallowed the donkey, the tail just can't be that much more." AMI has already successfully written off millions in bad debts, and has moved on to a multitude of other profitable and energetic projects.
The resolution to this story is simple: "Get registered via Heritage Global Partners or Exclusively Auctions website to view a catalog that offers diamonds for the price of carbon and make your dreams a reality." Someone is going to put money from this into their own pockets.
###