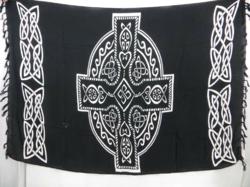 Blaine, WA (PRWEB) March 05, 2013
Clothing wholesale supplier Wholesalesarong.com adds new Celtic sarongs to expand its comprehensive range of wholesale clothing product lines. The latest addition to its massive wholesale clothing catalog is an interesting collection of easy wraparounds imported directly from Indonesia. Wholesalesarong.com has collaborated with their Bali manufacturing partners to come up with these wonderful Celtic sarongs. Great colors and proven to be a great eye pleasing wear.
The company dominates the wholesale fashion distribution market in America and Canada. Set up in 1996, wholesalesarong.com today enjoys the support of a massive network of retailing shops, jewelry stores, garden centers, hippie clothing stores and gift shop operators in both US and Canada. More than just garment products, the company also supplies wholesale jewelries, watches, Bali handicrafts, Asia arts, home garden decorations and general fashion accessories.
The latest shipment comprises of gender-neutral casual wear. All the Celtic sarongs imported are comfortable to wear as they all are made from soft, breathable 100% Rayon. This fabric is especially well known for its versatility, it can turn into shawl, skirt, beachwear, summer dress, tapestry, curtain, bedspread, throw, bikini swimsuit cover up, wall hanging, table cover, altar cloth etc… The imagination is unlimited.
The catalog stands out for its wide color choices and various print patterns and motifs. What is ubiquitous in this batch is the unmistakable Celtic symbols. There are many to choose from. For example, there are the brown circle Celtic knotwork sarong, black and white Celtic cross sarong and Celtic horse knots sarong in golden orange color. They are all of interesting color mixes and innovative designs. If one is into classical look, check out that Irish Celtic design black and white sarong. There is definitely something for everyone here.
Because of the massive assortment of designs available, retailers are able to place single piece order for each product code so that the rich choice could be extended to their respective customers (however minimum order value applies). This is in line with the company previously communicated commitment to expand the market's choice. Consistent with its policy, bulk orders will be rewarded with substantial discount.
"It has always been the company's philosophy to bring in bulk quantity and cost effective products to retailers in America and Canada. This move has been central to our market execution and it has earned the company many fans among domestic retailers," so said the spokesman from wholesalesarong.com.
All orders are delivered via UPS standard group from its warehouses, where it consolidates all shipments from the far eastern countries. Apparel & Sarong also does business with overseas clients. For customers outside this continent, please refer to their website for shipping details.
Company Info:
Apparel & Sarong is a US and Canada wholesale distributor supplies Bali arts, clothing, fashion accessory, jewelry, dresses, sarong beach wear apparel, musical instruments to retailers and distributors. Products include Bali Indonesian pareo, celtic sarong (Sarong is also called pareo, lungi, dhoti, canga, mundu pareau, sri, surong, and lava-lava, sri, African kanga), tie dye skirts, summer dresses, resort wear, African kanga, Caribbean printed Aloha Hawaiian shirt, didgeridoo, rainmakers, percussion djembe drum, rattle, shaker, maracas, thumb piano, bohemian dresses clothing, hippie apparel, semi-precious stone jewelry, organic jewelry, pendant, charm, earring, bracelet, necklace, silver jewelry, maxi dresses, bohemian dresses, mini skirts, caftan, pants, dancing wear, poncho, horn bone wood organic jewelry, gemstone handmade jewelry, body jewelry ear plug, anklet foot jewelry, semi-precious stone, gemstone ring, fashion shawl, jewelry scarf necklace, handbag, barrette hair clip, hair accessory, affirmation banner, bedcover, bronze jewelry, bangle watch, pocket watch, body piercing jewelry, bone spiral, water buffalo horn jewelry, hanging claw, batik apparel and handicrafts made in Bali Indonesia.