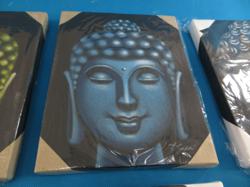 "God has no religion" --- Mahatma Gandhi
Blaine, WA (PRWEB) March 26, 2013
Wholesale gifts supplier WholesaleSarong.com adds new spiritual giftware made in Bali to expand its comprehensive range of wholesale home decoration catalog. Buddha statues, Buddha sculptures, Buddha oil painting on canvas from Bali Indonesia, tribal masks, Feng Shui compass and affirmation banners are the main draws as wholesalesarong.com unveils its latest wholesale gifts and novelty items.
WholesaleSarong.com, the leading wholesale décor distributor in continental US and Canada, announces that it has brought in the biggest yet shipment of exotic crafts and novelty items into the market. The company is widely recognized as one of the premium wholesalers in North America, serving fashion and novelty gift retailers across US and Canada since 1996. For this spring/summer sales program, the company has decided to kick off with its huge collection of spiritual gift products and novelty items. This choice to bring these products in early is made over the more conventional choices of garment products, jewelries and fashion accessories, which are usually more favored by most wholesalers to kick off a new sales program.
The company spokesman commented on the early move by the company, "Well, this should not be a real surprise. Wholesale decorations, in this case, affirmation banners with wise words from wise men, Buddha statues and even feng-shui compass, are always things of all seasons. The sales are not necessarily restricted by weather consideration or even market trend. There is always a big pool of consumers who are constantly on the look out for such products. We did our sum, and we are confident this decision is going to have a positive impact on our business. This industry is tough and one needs to be forward thinking to drive the business ahead," the spokesman from wholesalesarong.com declares
Affirmation banners forms the biggest lot among the many products in this catalog. These popular banners are inscribed or printed with quotes from famous people the world over. The clever and insightful quotes have been made immortal for its great depictions of great minds ever lived. Some famous ones include:
The future depends on what we do in the present. Happiness is when what you think, what you say, and what you do are in harmony. - Mahatma Gandhi
This is my simple religion. There is no need for temples; no need for complicated philosophy. Our own brain, our own heart is our temple; the philosophy is kindness. - Dalai Lama
Become loyal to Your innermost Truth. Follow the way when all others abandon it. Walk the path of Your own heart.
There is no way to happiness, happiness is the way.
Love and compassion are necessities, not luxuries. Without them humanity cannot survive. - Dalai Lama
Never never never give up - Winston Churchill
But this shipment is more than just inspirational wall hanging. Other items one can find are Buddha statues, tribal masks, feng shui compass, inspirational gifts, spiritual gifts, home accent, home décor masks, and more. For wholesale prices and product details, please visit http://www.wholesalesarong.com/wholesale-affirmation-banner.htm.
As for packaging, each bundle can come in 6-piece, 12-piece or 36-pieces. The company is ready to take in orders from retailers with immediate effect. All deliveries would be made via standard UPS ground.
Company info:
Apparel & Sarong is a US and Canada wholesale distributor supplies Bali arts, clothing, fashion accessory, jewelry, dresses, sarong beach wear apparel, musical instruments to retailers and distributors. Products include Bali Indonesian handicrafts, natural artifacts, affirmation banner, spiritual inspirational flags, banana leaf photo albums and notebooks, sun moon animal hand carved and hand painted Balinese mirrors and frames, wooden chess sets, bamboo wind chimes, wooden dream chimes, abstract wood carvings, geckos elephants dolphins wall plaque, Canvas Art oil paintings and contemporary acrylic Balinese paintings, inspirational arts and home accent decorating gifts, beach wear clothing pareo sarong, scarves shawls, punk clothing, halter sundress, maxi dresses, bohemian wholesale dresses, hippie apparel, batik garment, mini skirts, kaftan, pants, dancing wear, sundresses, poncho, tapestries, wall hangings, curtains, bedspreads, throws, altar clothes, Caribbean printed Aloha Hawaiian shirt, musical instrument didgeridoo, rainstick, djembe drum, rattle, shaker, maracas, thumb piano, semi-precious stone jewelry, organic jewelry, pendant, charm, earring, bracelet, necklace, silver jewelry, water buffalo horn bone wood organic jewelry, gemstone handmade jewelry, body jewelry ear plug, anklet foot jewelry, semi-precious stone, gemstone ring, fashion accessories, jewelry scarf necklace, handbag, barrette hair clip, hair accessory, bronze jewelry, bangle watch, pocket watch, body piercing jewelry.