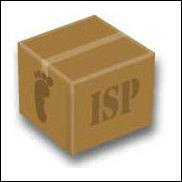 ISPs can now quickly expand their existing dial-up and broadband offerings in a fraction of the time and at a fraction of the cost
Grants Pass, OR (PRWEB) December 21, 2006
Wholesale ISP visp.net (http://www.visp.net) has expanded its DSL footprint to include the majority of California. The new broadband service allows ISPs to bypass expensive circuit and equipment installations with AT&T, a process which can sometimes take months to complete. With visp.net's solution ISPs can begin offering a profitable DSL product to their subscribers in just two days.
During the past decade, visp.net has developed ISP software and an entire suite of wholesale ISP services to make ISPs more efficient by simplifying ISP management and increasing their margins through a pay-as-you-grow model -- thus eliminating fixed costs. Visp.net already maintains one of the nation's largest wholesale DSL footprints. Service areas include Qwest territories in 11 western states.
"ISPs can now quickly expand their existing dial-up and broadband offerings in a fraction of the time and at a fraction of the cost," said Todd Derek, Director of Marketing. "This new wholesale access to AT&T's California DSL footprint is a windfall for ISPs and is better for subscribers because they now have more choices."
DSL Choices From visp.net
With visp.net's virtual ISP solution, an ISP can offer their subscribers broadband DSL service with data rates of 1.5 mbits/sec and 3 mbits/sec. In addition, ISPs can provide their subscribers with DSL using their existing back office solution, or with visp.net's comprehensive ISP in-a-box® management and ISP billing software.
ISP in-a-box® provides ISPs with easy-to-use ISP software that includes account management tools, advanced ISP billing software, a powerful subscriber web portal, and a wide range of reports to make an ISP business owner's life easier.
"With the new DSL solution we are providing in California ─ combined with ISP in-a-box® software ─ ISPs can invest their time working with subscribers and marketing, rather than waiting for circuit orders to get filled," Derek said. "In addition to getting up and running in only two days, ISPs can be profitable with their first subscriber because they no longer have to wait for their circuits to fill up in order to hit an illusive break-even point."
About visp.net
Privately held visp.net ─ an award-winning wholesale ISP ─ develops innovative ISP software that enables Internet Service Providers to reach more subscribers, improve their services and significantly reduce management and support overhead.
###