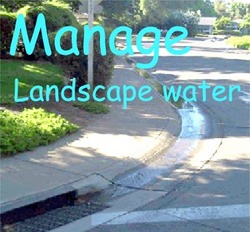 use water wisely in the GOOD Times, too
Cupertino, California USA (PRWEB) February 24, 2009
Michael Arthur Johnson Company is seeking professionals, experts and concerned facilities managers to share information and best practices in the area of Landscape Water Management. Using an online Discussion Group, these experienced people can quickly and easily share their knowledge and practices to find new ways and to utilize existing procedures and tools to manage landscape water in this time of water crisis brought about by the drought in California and other locations around the world.
Good water management is a necessity in times of a drought; but, it is also important to conserve and "use water wisely in the GOOD Times, too". Water is rapidly becoming an expensive commodity and using it with a budget and a plan will save businesses and home owners big money over time. The value of installed landscape assets is large and they should be protected and managed using the best available theory, technology and knowledge.
Landscapes are over and under watered regularly due to improper watering schedules. Improper watering causes soil nutrient loss, weaker, disease susceptible plants and shallow rooting. Hardscape, like asphalt, fences and buildings are damaged. Mold and fungus are promoted in constant wet conditions with no drying out periods. Landscapes are especially over watered during summer and fall resulting in significantly increased water bills. Proactive planning methods will help budget, enforce, spot problems and report savings.
A water management certification program is wonderful; but this alone does not provide the training and knowledge required by the thousands of technicians and other professionals in the landscape installation and maintenance business. Becoming a Certified Water Manager by itself does not assure that all the professionals in the industry know what to do with the theory. The Landscape Water Management Discussion Group will allow many more persons to be come proficient in the use of water management techniques and tools.
Mike Johnson calls this type of effort Collaborative Competition and says that it is a missing element in business today. Driven by the theory and teachings from Dr. W. Edwards Deming, Mike was a facilities manager at a silicon valley company during the 1986 - 1991 drought and worked with Green Leaf Mapping and Control company to develop the concepts which are now included in the AuditorSoft web based water management software system. This effort saved over 40% in water usage while maintaining a very professional looking landscape design.
Michael Arthur Johnson Company provides consulting and markets products to create customer delight worldwide. They also manage online discussion groups for Healthy Linen Products and Dr. Deming's famous Red Bead Experiment. They are currently releasing a series of packaged Learning Programs to teach business people to not only Walk the Talk but to Learn to Live the Talk.
###