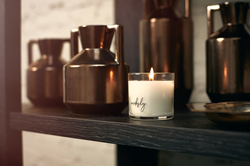 "As one of the more affordable subscription options, Wicksly is ideal for people who like to be surprised by the fragrance they receive in each delivery."
CHICAGO (PRWEB) April 05, 2021
Luxury candle maker Wicksly was recently named one of the best candle subscriptions by both The Spruce and Treehugger. These accolades come after a tumultuous year in which people often sought comfort and the familiar flavors outside of their own homes; something Wicksly offers in spades. Wicksly is proud to share these commendations and note how they highlight its unique position within the candle subscription space, bringing fresh scents every month at affordable rates.
In their overview of several candle subscription services, Treehugger highlighted Wicksly's simple, affordable subscription plans, and their seasonal scents. They noted that "As one of the more affordable subscription options, Wicksly is ideal for people who like to be surprised by the fragrance they receive in each delivery." Wicksly's monthly deliveries are hand-poured and feature curated scents to match the time of year, for an experience that feels continually fresh and makes it the best 'Mystery Box' in the category. Their philosophy is for the candles to coexist with the user for that month, giving each page on the calendar a distinct smell.
Over on The Spruce, Wicksly was named the 'Best Budget' candle for its long-lasting burn times of 40 hours, and use of reusable, minimal glass containers. Coupled with monthly deliveries, this allows users to use their candle for over an hour every day and not miss a beat before the next one arrives. With yearly pricing making candles average at $16.66 each, these affordable packages are designed to offer ample value without sacrificing on the quality of scent.
Every month Wicksly subscribers receive a new scented candle with a unique scent to match the season, delivered with no shipping fees. These candles are made from soy wax and 100% natural materials, and are created locally in the USA. Soy wax is unique in that it allows candles to burn for longer, retain their scent better, and offer more pronounced flavors, offering a unique value to users. Wicksly has continually worked to offer maximum value and enjoyment to subscribers, while using sustainable ingredients and offering an experience unlike any other.
Wicksly is proud to receive these accolades as recognition for innovation and efficiency within the candle subscription industry. They are continually seeking new ways to improve their service and delight users however possible, in the name of offering meaningful flavor to the passing of time.
Wicksly is a luxury candle subscription service that ships candles to member's homes every month that are 100% natural and made in the USA. Those interested can visit Wicksly's website and follow them on Facebook or Instagram.