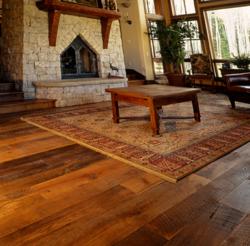 This Wide Engineered line allows us to cover more square feet, increasing our output, and therefore availability, of rare antique species like Chestnut
Farmington, NY (PRWEB) March 29, 2013
Crafted entirely in the USA by Pioneer Millworks, their new wide version of Eco-Friendly Engineered wood allows for unmatched character and history in an environmentally friendly and economical product. It is available in a variety of their reclaimed species and grades up to 10" wide, pre-finished or unfinished.
"Since our customers have increasingly requested engineered options, we decided to do something (green) about it," explains Pioneer Millworks General Manager, Jennifer Young. "Not only are we increasing the yield of rarest, most expensive products, we're driving the price down."
The new line of eco-friendly engineered products provides the wider look of solid antique wood yet can be applied over concrete slabs and in subterranean spaces. Crafting the line with an extra thick wear layer allows for increased yields on rare species (like Chestnut or Elm) in a more economical option than solid wide width products.
Why the growing need for engineered floors? For starters, they're easier to install, especially when pre-finished. Engineered flooring is often the best option over concrete slabs or in subterranean applications (like basements). They can be glued-down giving condo or apartment residents a less permanent hardwood option. "This line allows us to cover more square feet, increasing our output of rare antique species like Chestnut," says Young.
Details on The World's Most Eco-Friendly Engineered Flooring:

Wear Layer: FSC certified 100 percent antique reclaimed
Platform: no added formaldehyde, low VOC adhesive
Option of unfinished or pre-finished: all natural oil, UV cured aluminum oxide, or custom finishes
Available with precision tongue & groove
Packaging: made from 100 percent post consumer materials, using water-based inks.
Sourced and manufactured in the USA, in a way that's healthy for customers, Pioneer Millworks' employees and the environment
Reclaimed species available include: ash, chestnut, grey elm, mixed oak, karri and others via special order
Pioneer Millworks is the leader in the reclaimed wood industry. To date, they've rescued nearly 22 million board feet of old wood from rot and landfills, giving it new life as flooring, millwork, cabinetry, and more. All manufactured in the USA from New York and Oregon — in a way that's healthy for customers, employees, and the environment. Pioneer Millworks is FSC certified and Green America approved. All of their products are LEED point eligible.