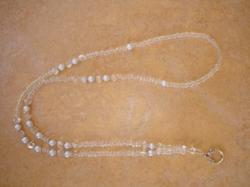 Chandler, Arizona (PRWEB) June 13, 2012
Birthstone beaded lanyards are great gifts for co-workers. Healthcare workers, government workers, event staff, teachers, and corporate workers need to wear a form of ID badge at their workplace.
Kim Arendt, owner and designer of WI Girl Designs, designs two styles: Birthstone and Silver Lanyards and Birthstone and Pearl Lanyards. The first beaded lanyard style is created with Swarovski crystals, flat clear beads, and sterling silver spacers.The second style of beaded lanyard utilizes Swarovski crystals, clear plastic beads, and white pearls instead of the silver spacers. Both styles are feminine and elegant. This month's featured lanyard is the white Pearl and silver design. Do not underestimate their sturdiness, though. Being a medical professional and wearing a lanyard at her workplace, Kim designed each piece to withstand the workplace stress. Multiple crimps are added to pressure points on each badge holder to allow for tugging without breakage.
Each lanyard is uniquely designed, as Kim touches every bead. WI Girl Designs has multiple beaded badge holder designs, including Southwestern styles. The Birthstone Beaded lanyards are the most popular. Jet black and clear lanyards coordinate with most everyone's wardrobe. Multi-colored lanyards are also favorites.
Birthstone necklaces and bracelets are also displayed on her website. There is a separate page of Badge Reels, designed for those who do not like wearing anything around their neck.
Kim offers customization. Team colors, corporate colors, and favorite colors are common requests. You can reach Kim by going to WI Girl Designs website at http://www.WiGirlDesigns.com.