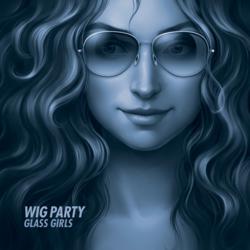 I was honored to be able to record with Wig Party. The album shows Wig Party's range of musical style and displays the guys' musical talents and songwriting ability. - Tom Marshall (Phish, Amfibian)
(PRWEB) March 07, 2013
The five-piece rock band, Wig Party, releases their debut album, entitled "Glass Girls." Charles Kirby (vocals), Ryan Quick (drums), and Vincent Ventriglia (guitar/vocals), former members of the northeast regional band The Dirty Drop, asked old friend Greg Del Deo (bass) to form a new group that became Wig Party. In early 2011, Wig Party added a fifth member, Hank Rosenthal (keyboards/vocals) and continued to write, leading up to their latest trip into the studio, an effort that resulted in their most recent recording, "Glass Girls." Working with producer Anthony Krizan (Spin Doctors, Lenny Kravitz, Noel Redding), singer/songwriter Tom Marshall (Phish, Amfibian), and Grammy Award-winning engineer Tom Camuso (Steve Earle) the band transformed its sound with their new release.
"Glass Girls" brings a lighthearted energy that calls the listener to dance, party, and have a good time. "We want to make music that you can't help but move your body to, but we also want people to hear our lyrics and get lost in the tale being told," says Vincent. The six songs on "Glass Girls" represent a small piece of Wig Party's catalog, but is an accurate reflection of their eclectic sound. Accessible to music fans of any genre, "Glass Girls" showcases the many styles and influences driving Wig Party.
Wig Party continued perfecting their live craft in 2012 with a heavy rotation of new tour dates. Their performances have been described as upbeat, energetic and fun, with well-crafted original songwriting on display at each show. Moving forward into 2013, Wig Party is on a steady track to grow from regional group to national touring act.
You can learn more about Wig Party at http://www.wigpartymusic.com.
If you have any questions, comments or would like to set up an interview please contact Melissa Zeigler: melissa(at)powderfingerpromo(dot)com