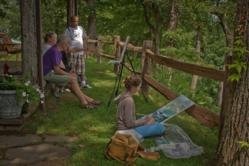 Little Switzerland, NC (PRWEB) March 18, 2013
Idyllic Little Switzerland, nestled in North Carolina's Blue Ridge Mountains, provides the backdrop for creative exploration in week-long arts immersion retreats offered by Ringling College of Art and Design. Open to students of all skill levels, the Wildacres artist workshop familiarizes the novice with methods and techniques in a selected discipline, and inspires the experienced artist to explore new processes and refine execution.
Classes in clay, drawing, mixed-media, digital photography, painting and printmaking emphasize personal instruction, skill development and the freedom to explore an individual artistic path. Students experience an immersion in the arts through studio instruction, demonstrations, critiques, lectures and ample open studio time outside of class schedules.
The setting features spectacular mountain vistas, camaraderie around the bonfire, and outdoor recreation. Local artisan studios and the renowned Penland School of Craft offer inspiration and a glimpse into the creative process of working artists. Retreat accommodations are comfortable, double occupancy with private baths. Delicious, hearty meals are served family-style.
Students may enroll in a single weeklong retreat, or register for two consecutive summer sessions. The program runs July 14 through July 20, July 21 through July 27, and October 21-27. The cost of lodging, meals and gratuity is $295 per person/per session. Tuition ranges from $395 to $425 per person/per session, depending on course selection. For the cost of lodging, meals and gratuity, participants are welcome to bring a companion to enjoy the retreat's mountain setting. Wildacres is located an hour's drive north of Ashville, just off the Blue Ridge Parkway, and three miles from the village of Little Switzerland.
Don't miss out on this unforgettable exploration of the arts in a stunning setting guided by the faculty of Ringling College of Art and Design. For more information and to register online, visit http://www.ringling.edu/Retreat, or contact Diane Zorn at 941-955-8866.
MEDIA CONTACT:
Diane Zorn
Assistant Director, Continuing Studies and Special Programs
Office: 941‐955‐8866 • Email: cssp(at)ringling(dot)edu
-----------------------------------------------------------------------------------------------------------
Founded in 1931, Ringling College of Art and Design is a private, not-for-profit college offering the Bachelor of Fine Arts or Bachelor of Arts degree in 14 disciplines. The College is a member of AICAD, and is accredited by NASAD, SACS, and CIDA, formerly FIDER.