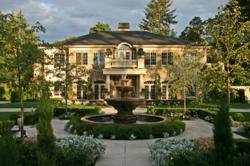 We wanted to offer couples something special in honor of the Royal Wedding and to celebrate our venue's English ties.
Gig Harbor, WA (PRWEB) April 21, 2011
Kensington Gardens, a local English-manor-style wedding venue is giving couples a chance to feel like royalty. In honor of the upcoming Royal Wedding of Prince William and Kate Middleton on April 29th, Kelly Watson owner of Kensington Gardens is offering a special 'Will and Kate Style Royal Package'. The package offers couples elements from the Royal Wedding, as a tribute to the royal couple and to celebrate the venue's own English ties.
"We wanted to offer couples something special in honor of the Royal Wedding," says Watson. In keeping with the Royal Wedding (http://www.officialroyalwedding2011.org) couples can choose from several royal options:

Travel in a horse drawn carriage,
Music from the Royal Wedding service, which will be distributed digitally for the first time ever,
A tiered, fruit filled wedding cake decorated with a floral theme using the same "language of flowers" that Will and Kate have chosen. Their wedding cake flowers include a bridal rose, for happiness; the oak and acorn symbolizing strength and endurance; a lily of the valley, which symbolizes sweetness and humility; and ivy leaves, which symbolize marriage.
In addition to the Will and Kate Style Royal Package offered by Kensington Gardens, this local venue has close ties to England and its royalty. Set on 23 serene acres of lush, private woods in the Seattle area, Kensington Gardens is built in English Manor style and was inspired by the elegant gardens of the same name that surround Kensington Palace, in London. Kensington Palace was home to Prince William's mother, Princess Diana.
Says Watson, who personally designed the manor complete with fragrant sculptured gardens, graceful fountains, and winding pathways in keeping with its English namesake, "when my husband was working in London, I used to take our kids to Kensington Gardens to play on the lovely grounds. The gardens and the beautiful European architecture were something I wanted to bring home to Washington. Because of this connection we are especially excited about the upcoming Royal Wedding."
For all couples Kensington Gardens offers a romantic venue. Expansive manicured lawns, graceful walk ways and fountains surround the stone villa and provide idyllic scenery for ceremonies, gatherings and breathtaking pictures. At dusk the gardens, fountains and surrounding trees glow with elegant lighting. Favorite features of the venue are the formal gardens surrounding the tiered fountain centerpiece, the Garden Chapel and the "white" garden filled with white Gardenias, Jasmine, Calla Lilies and Magnolias – perfect setting for stunning wedding or special event pictures. The villa features European charm, with French doors opening into large airy rooms filled with antique furnishings and fresh flowers.
The Kensington Gardens Will and Kate Style Package - with a carriage ride, royal music or a tiered fruit cake, offers local couples a special taste of the Royal Wedding. This elegant Seattle area wedding venue has a warmth and elegance that will make any couple feel like royalty.
About Kensington Gardens – Kensington Gardens is Western Washington's finest wedding and event venue. Completed in 2008 the charming European Manor style venue offers manicured lawns, fragrant gardens and graceful fountains in addition to the latest amenities and an elegant ballroom. The creation of Kelly Watson and her husband whose European travels combined with their design background and love of gardening, Kensington Gardens sits on 23 acres of private lush woods. Kensington Gardens 3804 Olson Drive NW, Gig Harbor WA, is the perfect venue for both weddings and special events. For more information see: http://www.KensingtonGardens.com.
# # #