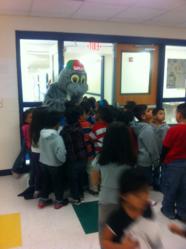 Ever since I was a little walrus and my tusks were growing in, I have known the importance of keeping them in good shape as my mother taught me. I love going around with Gail to see children... - Willy the Walrus
Harlingen, TX (PRWEB) March 26, 2013
Again this year as for the last 15 years, the venerable Willy the Walrus has been on the road teaching good oral hygiene skills to youth in the Rio Grande Valley during last month's Children's Dental Health Month. He was extremely busy and visited 18 different schools or youth centers over the last few weeks. The number of youth he has reached over the last 8 months now sits at 5,760.
With his partner, Gail Thomason of Harlingen Family Dentistry, he put on his 45-minute fun presentation on the ups and downs of brushing tusks and teeth and showing kids the back and forth of flossing. Each child also receives a free dental hygiene kit, courtesy of Harlingen Family Dentistry.
"Ever since I was a little walrus and my tusks were growing in, I have known the importance of keeping them in good shape as my mother taught me," said Willy. "I love going around with Gail to see children and teach them how to keep their little tusks in good shape. It is fun for me."
The presentation is also something both teachers and kids love and find fun.
A counselor at Landrum Elementary wrote to Willy and Gail:
"Thank you for coming out to our school. The children learned a great deal from the program and educational information. The teachers enjoyed getting worksheets for children regarding dental hygiene and education. In addition, the samples will provide a valuable resource for many of our children who are from low income families. Finally, you and your staff have been nothing but accommodating, and you and your staff also proved very knowledgeable of the information presented to students. Again, thank you for your time, your help, and your dedication to our students."
A teacher at Dishman Elementary wrote:
"Your presentation this morning was wonderful. Thank you for sharing so much important information with our students! I really enjoyed, along with the students, all the history and knowledge you included in your presentation...I even learned some new things!"
"It is very nice for them to say those things," continued Wally. "I really want to really thank the principals and staff at the schools for letting us come."
The following are the schools that Willy visited this past month.
Dishman Elementary
Treasure Hills Elementary
Austin Elementary
Oscar de la Fuente Elementary
Bowie Elementary
Landrum Elementary
Ed Downs Elementary
Jefferson Elementary
Austin Elementary
Berta Cabaza Middle School
Travis Elementary
Dr. Raul Garza, Jr. Elementary
Rio Hondo Middle School
Ben Milam Elementary School
Rio Hondo Head Start
Darrell Hester Juvenile Detention Center
San Benito Boys and Girls Club
United Way Pop Star Readers Program
"Every year I get a little older," says Wally, "but that just means I have to take even better care of my tusks. It is a lesson I like to keep passing along to youngsters. So I will just do this again next year or any time I am invited or needed. People can come and like me on my Facebook page too!"
For more information on the Willy the Walrus dental education program or to invite Willy to your school or youth group in the Rio Grande Valley, contact Gail Thomason at 956-428-5322.