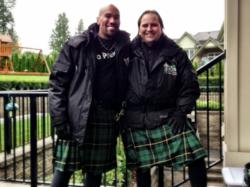 "The feedback we have already received from family and friends has been incredible." Sentwali Lewis - Owner, Men In Kilts Toronto
Toronto, Ontario (PRWEB) March 11, 2013
Men In Kilts, Canada's largest full-service window cleaning, gutter cleaning, siding cleaning, and pressure washing company, announced their recent opening in Toronto. Having already established themselves in Canada and expanding fast into the US, Men In Kilts has plans to be in every major market by 2017.
Men In Kilts CEO, Tressa Wood says, "Toronto was the next big Canadian market we wanted to hit. We were thrilled when Sentwali Lewis and Darcy Longpre came to us wanting to start up the Toronto franchise. We could not have picked two more dynamic owners for this market. They have a real passion and dedication to delivering a top notch service experience."
Lewis and Longpre come from diverse backgrounds and are excited to start sporting their knee-length kilts and tartan trucks around the Greater Toronto Area. Lewis says, "This is a very familiar business venture for me. With my experience as a business coach in the franchise industry, I have a solid understanding of how to scale our operations. Owning Men In Kilts Toronto will provide a new adventure for myself and will be extremely rewarding."
Longpre expands, "We are excited to launch. We see a huge opportunity in the overlooked window and exterior cleaning industry in our market. The time is right to open up a franchise here in Toronto. We could not be more amazed at the level of support and drive from the entire team at the Men In Kilts Head Office."
As with every new Men In Kilts franchise, locals in the Toronto area are sure to get a surprise the first time they spot these kilt-wearing men cleaning windows. Lewis says, "The feedback we have already received from family and friends has been incredible. Here in Toronto, we will continue bringing smiles into the world, one kilt at a time!"
-30-
About Men In Kilts
Men In Kilts was started in 2002 by Nicholas Brand with $500, a squeegee and a hand-sewn kilt. The first franchise was opened in 2010 in Vancouver and has grown to ten locations across Canada and the US. The company continues their successful expansion across North America, with plans to be in every major market by 2017.
For more information on Men In Kilts, or to see them in action, please contact Brent Hohlweg at pr [at] meninkilts [dot] com or visit http://www.meninkilts.com.
--high-resolution images available upon request--