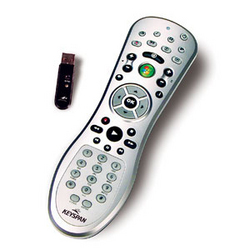 While many desktop PC brands bundle IR remotes, the serious user building their own custom PC media center will want an RF remote
Richmond, CA (PRWEB) August 7, 2007
Keyspan announced it is now shipping its new "RF Remote for Windows Vista." The remote control lets users operate the Windows Vista media player to enjoy music, TV, home videos, DVD movies, radio, and photos. Keyspan's RF Remote is "Certified for Windows Vista" and works with Windows Vista Home Premium or Windows Vista Ultimate.
Unlike infrared (IR) remotes, Keyspan's new remote uses a radio frequency (RF) signal that increases range, doesn't require line of sight, and works through walls and furniture.
"The RF Remote for Windows Vista gives users more flexibility in locating their PC," said Mike Ridenhour, president of Keyspan. "Since the RF signal works through walls and furniture, users now have the option of placing their PC in an AV cabinet or closet."
The Keyspan RF Remote for Windows Vista is ideal for the person who is building their own media center PC. "While many desktop PC brands bundle IR remotes, the serious user building their own custom PC media center will want an RF remote," said Ridenhour. "The RF signal and Windows Vista certification make Keyspan's remote an ideal option."
Now shipping, the Keyspan RF Remote for Windows Vista retails at MSRP $49, and is available to consumers at the Keyspan online store, PC Connection, Buy.com, Amazon.com and other leading resellers. It is available to resellers in the USA via Ingram Micro, D&H and Wynit. Check Keyspan's web site for a list of international distributors.
Remotes for Work and for Play
Keyspan offers the industry's most comprehensive line of remote controls for the PC, Mac, and iPod. Keyspan presentation remotes are top sellers in the business and education markets. Keyspan entertainment remotes are valued by consumers using the PC, Mac, and iPod for music and video.
Editors can reach Keyspan at 510-222-0131. The Keyspan website is located at http://www.keyspan.com
Contacts:
Mike Ridenhour, Keyspan, 510-222-0131 x102
Bill Gram-Reefer, WORLDVIEW, 925-459-8537
###