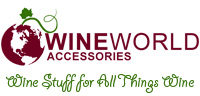 . These wine gadgets from the company serve dual purposes of enhancing the wine itself, as well as the environment in which one enjoys it.
Miami, FL (PRWEB) January 31, 2013
Wine World Accessories offers an array of unique wine accessories and wine gadgets at discounted prices. Wine adds excitement to any celebration and at wine world accessories they strive to provide the best accessories to enhance the wine drinking experience. They offer a wide range of wine accessories that may be gifted to friends and family. The company is now offering no cost shipping on all orders over $49.
Wine World Accessories provides an enjoyable shopping experience and offers a great selection at discount prices with fast shipping and outstanding customer service. The company strives to achieve the ideal combination of product selection, customer service, and fast shipping for its customers. This is the online wine accessories dealer that can assure complete satisfaction to a wine lover.
If a person is looking for wine accessories available online, a company spokesperson says, "We understand that while there may not be an accessory store in your neighborhood it is very easy to find one online. This is why we went through great lengths to ensure that our valued customers would be able to easily find the wine accessories, wine bottle accessories, home bar accessories, and other unique accessories all from the comfort of their home."
A wine rack is incomplete without wine accessories as an accompaniment. Some of the most common ones include wine glasses, corkscrews, wine totes, coolers, wine stoppers, wine bottle holders, cork boards etc. A wine corkscrew is an important tool. There are many types of corkscrews available, though all serve the same purpose. One end has to be screwed directly into the cork's center, and then the handle is used to lift the cork out of the bottle.
Some of the most common accessories from the company include Purse holder Hooks, wine stoppers and corkscrews for a wine connoisseurs who wish to make a bar at home and are looking for a good range of home bar accessories that are rated high in terms of quality and durability. These wine gadgets from the company serve dual purposes of enhancing the wine itself, as well as the environment in which one enjoys it.
About Wine World Accessories:
Wine World Accessories always strives to bring the enthusiast the best products at discounted prices with fast shipping. Visit Wine World Accessories for an enjoyable online accessory shopping experience. Their selection of products includes aerators, stoppers, and gifts as well as other unique accessories. Their website was developed to make the online shopping experience enjoyable and hassle-free by making it easy to find and purchase gifts that wine enthusiasts really want. They offer an array of home bar & wine bottle accessories from top brands including Franmara, Bordeaux, and Wine Away to name a few.
To know more about the online store log on to http://www.wineworldaccessories.com