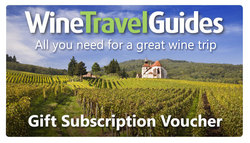 With the growing interest in what makes wine special, many travelers to Europe want to incorporate a few wine tasting visits into their itinerary. Written by local experts, our guides give visitors to a wine region the inside track on which wineries to visit and how to make the most of the area
London (PRWEB) October 23, 2008
A gift subscription to Wine Travel Guides makes an original and unusual holiday gift for wine lovers and travel lovers alike. This excellent value, useful wine gift lasts a whole year and includes over 45 comprehensive on-line guides to planning a private tour of the wine regions of France.
A gold gift subscription costs below $90 (£49) and gives full access to all the guides on the website including all the major wine regions of France, with guides to other countries coming on stream over the next few months. No need to get lost, as well as contact details and GPS codes, the gold subscription links to interactive Michelin maps.
The website has been widely praised for its great design as well as the wealth of detail in the guides. A recent subscriber from Canada commented: "Bravo! You have indeed created a terrific website loaded with beautiful, visual impact and valuable information … thank you for your vision!" Gift subscriptions come with an attractive personalized gift voucher which can be printed out or emailed directly.
The wine tour guides on Wine Travel Guides appeal to the growing numbers of travelers who prefer to plan their own private trips rather than going with a group on an organized tour. Using the guides, a wine lover can incorporate a short wine tour into a family holiday or even a business trip. The guides include recommendations of wineries to visit, as well as places to stay, eat and shop, and much more essential information.
Owner of the website, Wink Lorch comments: "With the growing interest in what makes wine special, many travelers to Europe want to incorporate a few wine tasting visits into their itinerary. Written by local experts, our guides give visitors to a wine region the inside track on which wineries to visit and how to make the most of the area".
For those searching for an original holiday wine gift that is simple to purchase on-line with no delivery charges, an attractive gift subscription voucher to Wine Travel Guides provides the perfect gift for anyone considering a wine tour in Europe in 2009.
About Wine Travel Guides:
Wine Travel Guides publishes independent on-line travel guides to wine regions, ideal for anyone planning a private wine tour. A sample guide is available on registration and further guides must be purchased through various annual subscription options. Wine gift subscriptions are available with personalized gift vouchers. Wine Travel Guides was launched in May 2007 and is privately owned by established UK wine writer Wink Lorch, who is based in London.
Contact Person for further information: Wink Lorch
Website: http://www.winetravelguides.com
Email: winklorch at winetravelguides.com
Telephone: +44 20 7531 1646
###