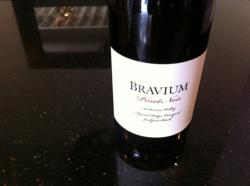 Amazon allows up-and-coming wineries like Bravium to gain exposure with a large audience of enthusiasts, and I am very excited that they have featured my winery in launching the Wine Marketplace
San Francisco, CA (PRWEB) November 08, 2012
Bravium, a San Francisco producer of small lot red and white wines, is honored to have been invited to join Amazon.com's new Wine Marketplace and is hurriedly shipping orders to a legion of new customers. The first orders were received within minutes of the Wine Marketplace going live.
"Amazon allows up-and-coming wineries like Bravium to gain exposure with a large audience of enthusiasts, and I am very excited that they have featured my winery in launching the Wine Marketplace," Derek Rohlffs, proprietor and winemaker at Bravium, said. The wine industry is closely watching Amazon's most recent effort to capitalize on the complicated market for online wine sales and, if successful, web wine sales will grow considerably in coming years.
Rohlffs, a Native American winemaker, produces 21 wines at his winery located on Treasure Island, in the middle of the San Francisco Bay. Vineyard-designated pinot noir and chardonnay bottled under his flagship Bravium label are featured, as well as unorthodox artisan wines, including White Wedding Proprietary White Wine and Lucky Proprietary Red Wine. White Wedding has become a favorite of wedding planners, and Lucky is being exported to Shanghai, China. These wines are placed in casinos around the U.S., high-end restaurants, including Bobby Flay's Bar Americain and Todd English's Tuscany, and will be prominently featured in Amazon's Wine Marketplace.
Rohlffs' educational background is in environmental studies and winemaking, and he fine-tuned his winemaking approach during multiple visits to the world's premier wine regions in Australia, France and Italy. He employs traditional winemaking techniques, allowing native yeast to initiate fermentations, gravity moving wines, and bottling his red wines unfined and unfiltered. His fruit comes from cool-climate vineyards located in the Mendocino, Sonoma, Napa, and Carneros appellations.
"The longer I make wine, the more I subscribe to a 'less is more' approach," Rohlffs said. "When we get things right in the vineyard--farming for balance and slow ripening--my job in the winery is simply to treat the wines as gently as possible, and allow the vineyard and vintage to shine through."
Bravium showcases the distinct character of its varied vineyards in its wines and has doubled its pinot noir production each of the past three years, bottling seven vineyard-designated wines in 2011, with each small lot comprising 72 to 192 cases. Roger Scommegna's Signal Ridge Vineyard and John Floisand's Beau Terroir Vineyard highlight Bravium's pinot noir program. Signal Ridge is Mendocino Ridge's highest elevation planting at 2,642 feet above the Pacific Ocean and is planted to Swan, Pommard, 2A, 115, 777, and 828 clones on a beautiful, hillside patch of land. Beau Terroir is situated on hallowed ground at Stanly Lane in Napa Carneros, where the proximity to the Pacific and San Pablo Bay--and its cooling afternoon breezes--provide for optimal ripening conditions. Rohlffs has also partnered with the Abbassi Family to produce Carneros Chardonnay from Robert Young vines planted in 1975, as well as two new pinot noir blocks that are being planted in spring 2013.
"The reason I love making pinot noir is because it is among the most transparent of wines," he said. "Pinot noir is greatly influenced by vineyard site, aspect, soil type, soil depth and weather conditions. Once in the winery, consistent winemaking protocols allow the fruit to reflect its source."
Sales of all wines support Sip&Give, Bravium's charitable fundraising campaign. Rohlffs created Sip&Give in 2007 and gifted more than $10,000 in cash and wine to Sip&Give's beneficiary charities this year.
For more information about Derek Rohlffs and Bravium, please visit bravium.com. To buy wines, go to http://wineshop.braviumwine.com. The winery tasting room at 995 Ninth St., Treasure Island, in San Francisco is open Saturdays and Sundays from 1 to 5 p.m. Follow Bravium on Twitter at twitter.com/InfamousWinemkr or like it on Facebook at facebook.com/bravium.
About Bravium
Proprietor and winemaker Derek Rohlffs' Bravium (Latin meaning reward, prize, or gift) produces vineyard-designated pinot noir and chardonnay, and bottles artisan wines, featuring White Wedding and Lucky, as well as wedding wines and private label wines for casinos and celebrity chefs. Wines produced at Bravium's San Francisco winery include Bravium Pinot Noir, Bravium Chardonnay and Bravium Rosé, as well as Carefree Pinot Grigio, Sunlight Chardonnay, Dearest Late Harvest Chardonnay, Noiro Pinot Noir, Outlier Pinot Noir, Formidable Merlot, Paper Street Merlot, Summercloud Merlot, Ramblin' Man Petite Sirah, Midnight Oil Syrah, Sachem Cabernet Sauvignon, Commitment Cabernet Sauvignon, High Stakes Cabernet Sauvignon and Character Cabernet Sauvignon. Bravium gives back to charitable organizations via its Sip&Give donation platform. Current Sip&Give charities include the Bonnie J. Addario Lung Cancer Foundation, Leukemia & Lymphoma Society, Community Gatepath, Peninsula Humane Society & SPCA, and Slow Food USA.