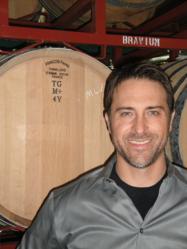 The longer I make wine, the more I subscribe to a 'less is more' approach
San Francisco, CA (PRWEB) October 15, 2012
Some winemakers are born into the wine business, while others fall into it. With passion, hard work and willpower, Derek Rohlffs has fought his way in. After earning the high GPA in the University of California at Santa Barbara's environmental studies program and spending 15 years working at casinos around the country, he now oversees his 7,000-case winery.
Bravium Winery's Native American proprietor and winemaker, Derek Rohlffs, produces vineyard-designated pinot noir and chardonnay. Located on Treasure Island, in the middle of the San Francisco Bay, Bravium showcases the distinct character of its varied vineyards.
"The longer I make wine, the more I subscribe to a 'less is more' approach," Derek Rohlffs said. "When we get things right in the vineyard - farming for balance and optimal ripening - my job in the winery is simply to treat the wines as gently as possible and allow the vineyard and vintage to shine through."
With 10 years of winemaking experience, Rohlffs focuses his work on cool-climate vineyards located in the Mendocino, Sonoma Coast, and Sonoma and Napa Carneros appellations. He also produces unorthodox artisan wines, including White Wedding Proprietary White Wine and Lucky Proprietary Red Wine. White Wedding is a unique blend of sauvignon blanc and viognier that has become his biggest selling wine.
Rohlffs is a member of the Cherokee Nation and is one of a very small number of Native American winery owners and winemakers. Bravium has been certified by the Cherokee Nation as a Tribal Employment Rights Ordinance [TERO] business. Rohlffs works with Native American tribes throughout the U.S., including the Mohegan Tribe in Connecticut. He makes a series of white and red wines for Mohegan Sun, the second largest casino resort in North America. His wines are also featured in Bobby Flay's Bar Americain and Todd English's Tuscany fine dining restaurants.
After taking winemaking coursework at the University of California at Davis, including its wine executive program, Rohlffs traveled to many of the world's premier wine regions in Italy, Australia and France to fine-tune his winemaking approach. Rohlffs employs traditional winemaking techniques, allowing the native yeast from each vineyard and the winery to initiate all fermentations, gravity moving wines, and bottling his red wines unfined and unfiltered.
Rohlffs makes wines that he likes to drink and he likes subtle pinot noir. "The reason I love making pinot noir is because it is among the most transparent of wines," he said. "Pinot noir is greatly influenced by vineyard site, aspect, soil type, soil depth and weather conditions. Once in the winery, consistent winemaking protocols allow the fruit to reflect its source. There's nothing worse than an over-extracted, high alcohol, heavily oaked pinot noir that drowns out the vineyard's expression. Again, less is more."
Bravium has doubled its pinot noir production each of the past three years, bottling seven vineyard designated wines in 2011, with each small lot comprising of 72 to 192 cases. Roger Scommegna's Signal Ridge Vineyard, Mendocino Ridge's highest elevation planting, and John Floisand's Beau Terroir Vineyard off Stanly Lane in Napa Carneros, highlight Bravium's pinot noir program. Rohlffs has also partnered with the Abbassi Family to produce Sonoma Carneros Chardonnay from Robert Young vines planted in 1975, as well as two new pinot noir blocks that are being planted in spring 2013.
All of these projects support Sip&Give, Bravium's charitable fundraising campaign. Bravium customers vote for their favorite charities at sipandgive.com, and red wine and white wine sales generate donations. Rohlffs created Sip&Give in 2007 and gifted more than $10,000 in cash and wine to Sip&Give's beneficiary charities this year.
For more information about Derek Rohlffs and Bravium, visit bravium.com. To buy wine, go to http://wineshop.braviumwine.com. The winery tasting room at 995 Ninth St., Treasure Island, San Francisco is open Saturdays from 1 to 5 p.m. Follow Bravium on Twitter at twitter.com/InfamousWinemkr or like it on Facebook at facebook.com/bravium.
About Bravium
Proprietor and winemaker Derek Rohlffs' Bravium (Latin meaning reward, prize, or gift) produces vineyard-designated pinot noir and chardonnay and bottles artisan wines, featuring White Wedding and Lucky, as well as wedding wines and private label wines for casinos and celebrity chefs. Wines produced at Bravium's San Francisco winery include Bravium Pinot Noir, Bravium Chardonnay and Bravium Rosé, as well as Carefree Pinot Grigio, Sunlight Chardonnay, Dearest Late Harvest Chardonnay, Noiro Pinot Noir, Outlier Pinot Noir, Formidable Merlot, Summercloud Merlot, Ramblin' Man Petite Sirah, Midnight Oil Syrah, Sachem Cabernet Sauvignon, High Stakes Cabernet Sauvignon and Character Cabernet Sauvignon. Bravium gives back to charitable organizations via its Sip&Give donation platform. Current Sip&Give charities include the Bonnie J. Addario Lung Cancer Foundation, Leukemia & Lymphoma Society, Community Gatepath, Peninsula Humane Society & SPCA, and Slow Food USA.