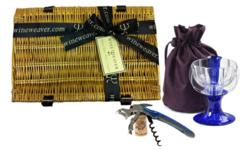 I bought this as a gift for my father and he absolutely loves it!
London (PRWEB UK) 12 March 2013
Patricia Robertson, founder of WineWeaver, gives some advice for wonderful Spring and Easter Celebration gifts. "Spring is such a wonderful time of year and Easter provides a fabulous opportunity to celebrate with a unique gift which is not on the high street, in the supermarket and is most certainly not a chocolate egg!"
WineWeaver is an online small independent shop that offers unique wine gifts and wine accessories including the British made product – the WineWeaver wine aerator for single glasses and decanters. Ms Robertson says "increasingly we're finding that our customers are looking to give someone a gift for Easter that lasts longer than 5 minutes, such as a chocolate egg might." She continued, "our store is full of great ideas to help make Easter even more enjoyable, plus our Professional Chef & Your Kitchen Blog has a delicious, quick and easy Easter recipe that the whole family can enjoy."
Personalised Easter Gifts are a great way to let family and friends know they are being thought of during the year. WineWeaver offers a variety of alternative easter gifts, including Gift boxes and Gift Hampers that can all be personalised with a handwritten message service, such as the 'Complete WineWeaver Aerator Travel Set in Wicker Gift Hamper'. This Wicker Gift Hamper comes complete with a wine aerator in a choice of colours, a travel tote for the wine aerator and a coloured Murano corkscrew from Waiter's Friend. To top it all, the wicker hamper can be re-used to pack the perfect picnic lunch in those warmer Spring and Summer days to come.
Alternatively, Ms Robertson suggests taking some time out to relax with a glass of favoured wine in the Spring sunshine over the Easter Bank Holiday weekend and what better way to do so, than drinking this in optimum condition.
WineWeaver is first and foremost known for their single glass and decanter wine aerator that was voted the 'best wine aerator' by Wine Professional and Master Sommelier, Christopher Delalonde. As Ms Robertson advises "Flavours, aromas and character are all heightened when a wine has the opportunity to breathe whilst serving, which is the great benefit of using the WineWeaver, plus it makes for a very unusual and treasured gift". Or in the words of WineWeaver clients- "I bought this as a gift for my father and he absolutely loves it - I will have to purchase one for myself!'' and another client wrote to say having received a WineWeaver ''I have bought several since for friends and family members''.
Spring is also a great time for in-store promotions offering customers the chance to purchase a duo of Wine Aerators at discount, suggesting that one can be used for red wine and another for white. In the words of Nanette of Colarado "white or red both are enhanced with the aerator". Each wine aerator comes individually boxed and make a practical yet unusual alternative Easter Gifts.
Another idea for Easter is homemade gifts which are personal and delicious and can be shared with all the family.
However, choosing a recipe that everyone will enjoy can be tricky however help is on hand and online in WineWeaver's Professional Chef & Your Kitchen Blog. For the coming season there is a great Easter recipe for perfect cheese scones. A cheese dish will help to offset those rich chocolate tastes and makes for a delicious and moreish cheese scone recipe to pair for an Easter tipple like a Cabernet Sauvignon.
In spite of these alternative Easter Gift Ideas, if it simply has to be a chocolate celebration, then be sure to arrange an Easter egg hunt to help the children enjoy the magic of the occasion, and why not arrange a [chocolate and wine tasting for the adults to enjoy also?
About WineWeaver:
WineWeaver are a small, committed and dynamic team who are truly passionate in their aim to raise the awareness of the advantages of enjoying aerated wine.
The passion of the founding partners led them to design a new style of wine aerator to incorporate functionality and a visual design which is both sophisticated and stylish.
The WineWeaver® wine aerator blends unparalleled performance with a state-of-the-art design to deliver perfectly aerated wine direct to your wine glass or decanter (the bottle to glass principle).
###
Contact: Patricia Robertson |Email: contact[at]wineweaver[dot]com | Tel: 00-44-203-427-5928
Head Office: 2.07 Second Floor, 83 Victoria Street, London, SW1H 0HW, United Kingdom |Website: http://www.wineweaver.com/