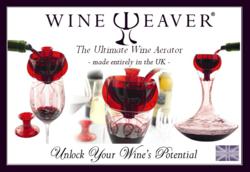 There is such a great entrepreneurial spirit here in Britain.
London, UK (PRWEB UK) 4 March 2013
The founders of WineWeaver, a company dedicated to improving the taste of wine through wine aeration, were pleased to attend a new initiative from the Royal Bank of Scotland to engage with entrepreneurs with the purpose of promoting increased business to business interaction. Simone Seymore, RBS Area Manager, was close at hand to effect the introductions between the businesses represented including manufacturer sellers and IT social media specialists. RBS management explained that having considered the natural pool of clients and contacts within their business to business pool they had evaluated that small businesses and entrepreneurs would benefit greatly by sharing ideas and experiences. Patricia Robertson, founding partner of WineWeaver, was pleased to hear the new initiative was just an introduction to further business to business developments by RBS. Ideas include a selection of short presentations by entrepreneurs at each event, thereby giving attendees an opportunity to show case some of their ideas and products. The main focus of these meetings will be to heighten the awareness and cement the networking base with a view to facilitate growth and development within the small business sectors.
It is anticipated that a follow-up meeting will be held in the late Spring/early Summer and at which the ever dynamic WineWeaver team have been invited to speak to the fellow attendees. As a small team passionate about raising the awareness of drinking wine in an optimum condition, the WineWeaver team are always keen to talk about the benefits of aerating wine before consumption. Needless to say, this passion has resulted in a 'bottle to glass' wine aeration system which is modern, stylish and in tune with the latest tableware designs. Patricia Robertson, founding partner of WineWeaver stated 'Creating a community where small businesses can share ideas can only be a positive move in the promotion of growth and knowledge between businesses and entrepreneurs in the UK, especially during these commercially challenging times'; Patricia went on to say 'to have the banks involved at the cutting edge will help to re-create a bond and increase the understanding between the small businesses and those who manage the loans and cash flow issues which are so vital to the success of a fledgling business'.
In summing up this encouraging initiative, Patricia went on to say 'there is such a great entrepreneurial spirit here in Britain and start-up businesses need all the support they can get. We at WineWeaver are looking forward to the follow-up and will encourage others to join in whenever possible'. In the meantime, Patricia will continue to pursue the idea of getting the RBS 'Sense' magazine to donate space to British micro businesses which find it hard to get editorial coverage and simply don't have the financial resources to buy advertising space.
About WineWeaver:
WineWeaver are a small, committed and dynamic team who are truly passionate in their aim to raise the awareness of the advantages of enjoying aerated wine. Flavours, aromas and character are all heightened when a wine has the opportunity to breathe whilst serving which is why the WineWeaver wine aeration system was designed for using on direct from 'bottle to glass' principle.
The passion of the founding partners led them to design a new style of wine aerator to incorporate functionality and a visual design which is both sophisticated and stylish.
The WineWeaver® wine aerator blends unparalleled performance with a state-of-the-art design to deliver perfectly aerated wine direct to your wine glass or decanter (the bottle to glass principle).
###
Contact: Patricia Robertson |Email: contact[at]wineweaver[dot]com | Tel: 00-44-203-427-5928
Head Office: 2.07 Second Floor, 83 Victoria Street, London, SW1H 0HW, United Kingdom |Website: http://www.wineweaver.com/