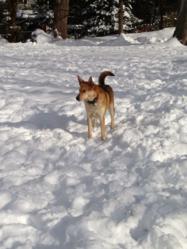 With proper safety measures, the winter season can be a fun time for pets and their families to enjoy playing in the snow together.
Wilton, CT (PRWEB) February 11, 2013
In the aftermath of harsh winter weather conditions in the northeastern United States, Canine Company (http://www.caninecompany.com), a distributor of Invisible Fence® brand pet containment and safety solutions provides pet owners with 10 Winter Weather Safety Tips to help protect their furry family members.
1. Watch those paws! If your dog will tolerate it, consider foot protection booties or Paw Wax like Mushers Secret: http://bit.ly/120CS7x
2. When walking your dog near ice, use extra caution to avoid slipping.
3. Do not allow your dog to run across frozen bodies of water - he/she could fall into icy water if the ice is too thin.
4. If you use an indoor or outdoor fireplace, always keep a safety guard around it in order to protect your pets from flames and soot.
5. If your dog or cat has been in the cold and begins to excessively shake or shiver, get him back to warm shelter as soon as possible. If you suspect your pet is developing hypothermia, bring him to a vet immediately.
6. Avoid letting your pets eat snow or anything else on the ground. Dangerous objects or chemicals may be hidden in the snow.
7. Beware antifreeze - It is highly toxic!
8. If you have an Invisible Fence® brand pet containment system and you suspect any risk of malfunction due to a lengthy power outage, falling debris or other damage, use caution and walk your pet(s) on leash in a location out of harm's way until the system can be properly restored by a professional.
9. If you have a physical fence, be sure your dogs or cats are not able to jump over the fence if they stand atop piles of snow. If they can, it is strongly recommended that you walk them on leash until the piles are cleared.
There are various leashes available to meet different needs, such as multiple dogs, running with your dog, or keeping your dog extra close: http://bit.ly/XkqgUA
10. In general, if you notice any abnormal behavior or signs of illness in your pet, contact your vet right away.
With proper safety measures, the winter season can be a fun time for pets and their families to enjoy playing in the snow together. If your containment system is working properly, retrieval toys (http://bit.ly/Z2AmN7) can be a fun way to keep your dog safely occupied and out of trouble in the snow.
Canine Company also offers an Invisible Fence® brand product that can help pet owners keep warm air in and cold air out of their homes in the winter by limiting the frequent opening and closing of doors. The Invisible Fence® brand Doorman™ (http://bit.ly/WCAQac), a programmable wireless electronic pet door gives dogs and cats the ability to safely exit and enter the home through a smaller opening. Working seamlessly with a pet's Invisible Fence® brand Computer Collar®, when the dog or cat approaches the door, it automatically unlocks, allowing them to come and go. Plus, it allows pet owners to remain undisrupted while relaxing or performing other activities around the home.
For more tips on pet care and safety visit the Canine Company blog at http://blog.caninecompany.com, follow Canine Company on Facebook at http://on.fb.me/12CFwjI or on Twitter @Canine_Company. For more information on Invisible Fence® brand pet containment systems in the Northeast, call 800-818-3647.
Canine Company is a family of pet lovers dedicated to fostering rewarding, lifelong relationships between pets and their owners by providing products and services to keep pets happy, healthy, and safe. Canine Company offerings include Invisible Fence® brand safety solutions, Manners in-home obedience training (available in select areas), and a variety of pet products. For media inquiries, please contact Jesse Rosenschein at marketing@caninecompany.com .