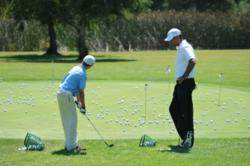 Our goal is to create the finest junior golf experience in the world.
San Rafael, CA (PRWEB) November 12, 2012
Nike Golf Schools and Jr. Camps, a division of U.S. Sports Camps – the nation's largest sports camp operator – will offer a four night/five day winter golf camp for advanced players over the holiday break.
"We are really excited about our winter camp this year," explains Jason West, vice president of Nike Golf Schools & Jr. Camps. "The Raven Golf Club, beyond just being a first class golf facility, is Jeff Ritter's home base for all of his instructional programs. Participants will have access to a pristine practice facility and state-of-the art technology while receiving instruction from one of the best junior golf instructors in the country."
The 2012 Nike Winter Golf Camp is offered December 26 – 30 and is open to high school and tournament levels players, aged 12 - 18. The program features daily instruction on all facets of the game from one of Golf Digest's "Best Young Teachers", Jeff Ritter. Participants also play 18 holes with the staff each day at The Raven Golf Club, rated 4 ½ stars by Golf Digest Magazine. Camp highlights include professional video analysis and online game-plan, sports psychology, golf fitness, dream-building, tournament preparation, college golf and proper practice routines. Accommodations are provided nearby at Legacy Golf Resort.
"Our goal is to create the finest junior golf experience in the world," states Jeff Ritter. "That initiative drives us to supply the best coaching, technology and support for both campers and parents. I look forward to delivering a memorable week for every camper at the Raven."
Jeff Ritter is the founder of the Jeff Ritter Golf Academy located at The Raven Golf Club in Phoenix, Arizona and the national director of instruction for Nike Golf Schools & Jr. Camps. He is a former instructor with Golf Digest Schools and the acclaimed Dave Pelz Short Game School. A consistent presence in the world of golf media, Jeff's articles appear in Golf Digest Magazine, Golf Tips Magazine, Golf Infuzion Magazine, Golf Punk Magazine in the United Kingdom, The A Position and the Arizona Republic. He has also been seen and heard on ESPN, FOX Sports, FOX Sports Radio, Sirius XM Radio and The Golf Channel. In 2010 Jeff was named by Golf Digest Magazine as one of the "Best Young Teachers in America".
About Nike Golf Schools
Nike Golf Schools and Junior Golf Camps (NGJC) is a division of US Sports Camps, Inc., America's largest sports camp network. NGJC offers junior overnight and day camps, and advanced player schools at over 80 locations nationwide. Since 1994, more than 150,000 junior golfers have participated in the camps.
Detailed information on the Nike Winter Golf Camp in Arizona can be found online. Players, coaches, parents and media members interested in Nike Golf Camps can visit USSportCamps.com/golf or phone 1-800-NIKE-CAMP.