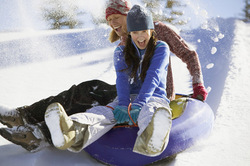 Foot ailments caused by snowy and icy conditions, as well as those caused by wearing improper footwear, are just several of the common winter injuries podiatric physicians commonly see and treat during the winter months
Bethesda, MD (Vocus) December 15, 2008
While the month of December gives many an extra boost of holiday cheer, the same winter weather that puts revelers in the festive spirit of the season can also take a fierce toll on their feet.
"Foot ailments caused by snowy and icy conditions, as well as those caused by wearing improper footwear, are just several of the common winter injuries podiatric physicians commonly see and treat during the winter months," said Dr. Ross Taubman, president of the American Podiatric Medical Association. "But there are several steps that can always be taken to drastically reduce incidences of these kinds of ailments."
The following helpful tips from APMA will help to keep you on your feet during the holiday season:
Avoid aches. Determined shoppers spend long hours navigating cramped, crowded shopping malls and department stores searching for the perfect gift. A long day of holiday shopping can often leave feet suffering from foot problems such as blisters and sore arches. To help ease stiffness and pain, stretch and massage feet to release tension, increase circulation and rejuvenate skin. To combat swelling in the legs and feet, elevate legs above heart level while lying down after a long day.
Soothe dry skin. With chilly winter weather often comes dry air, which leads to cracked, dry skin. A 2008 APMA survey found that 56 percent of women always or frequently suffer from skin that is dry, rough, cracked or irritated. Properly moisturizing feet with a hydrating lotion such as AmLactin, which holds the APMA Seal of Approval, will help to repair dry feet and promote softer, smoother skin.
Select smart footwear. Wearing the right type of footwear for weather conditions is imperative to avoiding foot and ankle sprains, breaks, blisters and more. While women attending holiday parties may feel obligated to wear high heels, always bring a pair of sensible winter shoes to wear to and from get-togethers, and remember to keep high heel height limited to two inches or less. When donning boots, consumers should always make sure they feature an adequate amount of tread – which will help to reduce slippage from icy terrain. Additionally, purchasing a pair of boots made with leather or natural fibers will help to absorb moisture and keep feet dry and odor-free. Those suffering from diabetes or other conditions that cause decreased circulation should take extra care to keep feet well-insulated during the winter to avoid frostbite, including wearing socks made with a poly-cotton blend, even when indoors.
If you experience a foot or ankle injury, immediate treatment should be sought from an APMA podiatric physician. To find one in your area, visit http://www.apma.org/findapodiatrist.
Founded in 1912, the American Podiatric Medical Association is the nation's leading professional society for foot and ankle specialists. The association has component societies in 53 locations in the U.S. and its territories and a membership of close to 11,500 doctors of podiatric medicine. For free foot health information, visit http://www.apma.org.
###