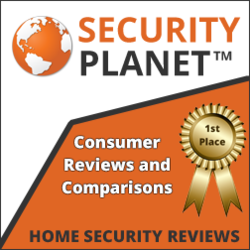 Compare the leading wireless home security system providers online at SecurityPlanet.com.
Chicago, IL (PRWEB) April 07, 2013
SecurityPlanet.com, the home security systems reviews website, has conducted their research and analysis of the home security system companies that offer wireless security systems to their customers.
When ranking the home security systems for wireless technology there are two forms of communication that are closely looked at. The first communication is locally within the home. The home security control panel communicates wirelessly with the sensors that are placed on windows, doors and throughout the home. Sensors for fire and carbon monoxide are also commonly used. This communication uses a similar technology as a wireless Internet router inside the home. Each of the home security system components have lithium-ion batteries that enable them to last for 3 to 5 years.
The second form of wireless communication is from the home to the home security company's central monitoring station. For this communication a cellular-based signal is used to communicate. Cellular-based communication is preferred by the SecurityPlanet.com team as there are no wires for a burglar to cut and the signal is highly reliable.
Gavin Anders from SecurityPlanet.com states, "There are three companies that really stand out when it comes to wireless home security systems and they are FrontPoint Security, ADT Security and Protect America. All three companies provide wireless home security systems along with cellular monitoring services to their customers. FrontPoint Security is the only company where cellular monitoring comes standard."
The top home security system company that operates under both of the mentioned forms of wireless communication is FrontPoint Security. FrontPoint Security is the number one ranked home security system company and now has also taken 1st place for the best wireless home security system company according to SecurityPlanet.com. FrontPoint Security maintains an outstanding customer service record along with an excellent rating on the Better Business Bureau. FrontPoint Security offers their customers wireless home security equipment from GE Security and backs up their services with a 30-day money back guarantee.
To learn more about FrontPoint Security and how they compare against the competition, visit SecurityPlanet.com online at:
http://www.securityplanet.com/best-home-security-systems/
About SecurityPlanet.com
SecurityPlanet.com delivers unbiased and independent reviews to consumers to help them choose the best home security system. Through the online comparisons and detailed reviews, consumers can perform an apples to apples comparison of the features and services offered by each leading home security system company.