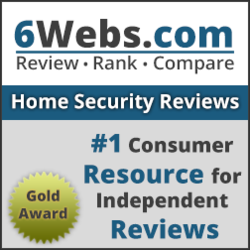 Compare the features and services of the leading home security companies online at 6Webs.com.
Wilmington, DE (PRWEB) March 09, 2013
6Webs.com, the leading home security systems reviews site, has helped thousands of consumers purchase the best security system for their home and family. The independent home security system comparisons and helpful tips that are published regularly on their website, has made 6Webs.com the go to source for consumers who need help with comparing home security providers.
Tim Smythe, the senior editor for 6Webs.com states, "Wireless home security systems have been in high demand over the last few years and more and more consumers like the convenience features that are standard with cellular monitoring services. A simple DIY home security system that takes less than 15 minutes to install and that comes with 24/7 monitoring services is appealing to both new and existing homeowners. Consumers in the market can visit 6Webs.com to see the latest news and comparisons of home security companies and their offerings."
Wireless home security systems have become more popular in recent years for several reasons including their ease of installation and ability to expand as needed by simply adding additional sensors. A typical installation takes less than 15 minutes and anyone can do it. Wireless home security systems can also have cellular monitoring services so all communication between the home security system components and to the home security company's monitoring station is 100% wireless. This provides a big advantage over the traditional hard wired systems as there are no wires for an intruder to cut and render the home security system useless. The following tips can be referred to in order to purchase the best wireless home security system.
TIP #1: Research the Home Security Company's Better Business Bureau rating
Any business that provides a service should be accredited with the Better Business Bureau. 6Webs.com lists all of the home security company's ratings on their online comparisons. These ratings are on a scale of A to F with A being the best.
TIP #2: Read Online Reviews and Customer Reviews
Consumers nowadays research everything because it is so easy. Customers like to share their feedback so it is easy to find reviews about a company online. Be sure to look at both editorial reviews like on 6Webs.com as well as ask friends and family if they have experience with any of the companies that are being considered. When reading home security system reviews be sure that they are independent and unbiased like the reviews on 6Webs.com.
TIP #3: Speak to Several Home Security Companies
It's recommended to speak to at least two contractors before having any work performed around the home. The same goes for home security services. The best way to see how a company is with their customers is to get them on the phone and ask them questions. Are they happy and helpful in providing information? Call at least to home security companies.
About 6Webs.com
6Webs.com is focused on delivering unbiased and independent reviews to consumers who are in the market for a home security system. 6Webs.com is the consumer resource to quickly compare the features and services offered by the leading home security providers. In addition, to home security reviews the 6Webs.com team publishes educational information on how consumers can lead a safer and more secure lifestyle.