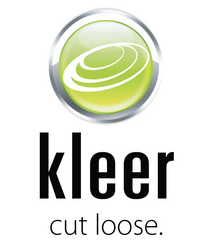 We've always believed in the superior quality of Kleer's wireless audio technology over Bluetooth and having an industry-leading journal like PC Magazine recognize this with a Technical Excellence award is very gratifying
Cupertino, CA (PRWEB) December 20, 2008
Kleer™ today announced its KLR3012 Audio Module has won PC Magazine's 25th Annual Technical Excellence Award in the audio category. This highly coveted award validates Kleer's success at being able to deliver a wireless audio technology that achieves CD quality (16-bit, 44.1 kHz) music, robust coexistence in the 2.4 GHz ISM band, point-to-multipoint transmission, and ultra low power consumption. Read the entire 25th Annual Technical Excellence Awards article on the PC Magazine website at http://tinyurl.com/4ubzkc.
"We've always believed in the superior quality of Kleer's wireless audio technology over Bluetooth and having an industry-leading journal like PC Magazine recognize this with a Technical Excellence award is very gratifying," said Levent Gun, President and CEO of Kleer. "2008 has also seen our customers' wireless earbuds and speakers receive overwhelming approval from both consumers and critics worldwide, with the proof being the numerous awards these products have won."
Commercially available wireless audio products that use Kleer technology include:

Kleer is currently working with 12 OEMs on over 24 products, many of which will be announced in 2009. And early in 2009, Kleer is both attending and presenting at the Consumer Electronics Show (CES) in Las Vegas, January 8 to January 11. During CES, Kleer will be demonstrating new and innovative wireless audio technologies, which consumer electronic companies can view by contacting Kleer at sales@kleer.com. Kleer customers will also be available, including Sleek Audio at booth #71960 at the Sands and Sennheiser at booth #21240 in the Las Vegas Convention Center South Hall 1.
About Kleer
Kleer is a fabless semiconductor company that has developed the first wireless audio technology to combine high quality audio and robust ISM band coexistence with low power consumption to address portable, home and automotive audio markets. Unlike Bluetooth, Kleer's patented subsampling radio architecture was designed from the ground up to communicate lossless CD-quality digital stereo audio over a robust 2.4GHz radio link, while achieving 10 times the battery life of a comparable Bluetooth solution. Kleer's Audio LP technology is ideally suited for OEMs of portable audio players, iPod™ and other player accessories, home audio/theater systems, earbuds, earbuds, and speakers. Kleer distributes its products via direct sales in North America, and a distribution channel in Korea and Japan. The Company is headquartered in Cupertino, California with product development facilities in Ottawa, Ontario. For more information, contact the company at 19925 Stevens Creek Blvd. Suite 111, Cupertino, CA, 95014, Tel: 408-973-7255, Fax: 408-973-7256, Email: info@kleer.com, or visit the company web site at http://www.kleer.com.
*Apple, the Apple logo, Mac, Mac OS, Macintosh, iPod and iTunes are trademarks of Apple. All other trademarks, registered trademarks, products and/or services mentioned herein are the property of their respective owners.
###