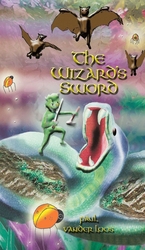 (Vocus) October 6, 2010
Magic and wonder abound on one creature's journey of body, mind and spirit in The Wizard's Sword (published by Trafford Publishing), the imaginative new fantasy novel by Paul Vander Loos
Mirrortac is an erfin, a race of cat-like people with fur and pointed ears who live in the valley of Eol below the Mountain at the end of the Earth. Though it's located light years away from Earth, Mateote is nonetheless connected to Earth in a myriad mysterious ways. When Mirrortac discovers an ancient sword, he encounters a demi-god called Nido who tells him that he must save his people from an evil sorcerer and sorceress plotting to overtake his and other worlds. He accepts the mission, though it comes fraught with danger and will require heroic determination and an open mind.
Gathering his fellow erfins, Mirrortac sets off to cross the mountain leading to what they believe to be the Netherworld. He'll face demons and do battle with nite-wolves. Mirrortac and his fellow erfins are subjected to freezing conditions as they diligently make their way to the far-off dimension where their enemy awaits.
Mirrortac's journey through various worlds introduces him to new races of peoples, creatures, plants and landscapes that adhere to their own laws and cultures. Some are friend, some are foe. Giant trees, leech-like creatures called gorkles and giant serpents called snerks all pose their own threats. However, the playful tree people known as faugs join forces with the erfins in a series of epic battles.
Follow Mirrortac's outward and internal transformations as he transverses mountains, a wasteland, an ocean, and finally, a dimension. He'll realize that he must abandon preconceived notions and embrace a broader wisdom. With vivid, visual detail and richly drawn landscapes and characters, Paul Vander Loos offers an enchanting read that skillfully guides readers through a rich, epic journey.
About the Author
Paul Vander Loos grew up surrounded by nature and bush in Queensland, Australia. After earning a bachelor's degree in journalism he relocated to the northern coastal city of Mackay. He founded the Mackay Writers Group and helped organize a number of public events, including the popular Mackay Festival of Arts. He has written numerous articles for newspapers and magazines. One of Vander Loos' plays will soon be adapted into a short film. The Wizard's Sword is his first novel.
Trafford Publishing is a premier book publisher for emerging, self-published authors. For more information, please visit Trafford publishing.
# # #