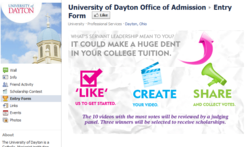 Philadelphia, PA (PRWEB) October 28, 2011
Using WizeHive's Online Contest Management Software, the University of Dayton will offer $50,000 in scholarships to students who create videos defining what servant leadership means to them. The innovative approach uses WizeHive's software to apply social networking and user-generated content to broaden the process of collecting and reviewing applications for scholarships.
"As a start-up company, we enjoy seeing how different institutions are embracing new media," says WizeHive CEO, Mike Levinson. "The students who put together videos for the contest are getting more than just a shot at a scholarship; they are learning valuable workplace skills."
The University of Dayton will invite prospective students to create a video for the contest either in place or in addition to their application essay. The winner will receive a $40,000, four-year scholarship to the University. It's a unique way to award a scholarship and to help spread the word about of the University's distinctive education, which encourages students to ask challenging questions and apply their educations to serving humanity.
To collect entrants' information, the University of Dayton will use of WizeHive's Contest Management Software to build custom online forms to accept entries through Facebook. Through the WizeHive secure network, the public will be invited to vote on the best videos, selecting the top 10. A panel of judges from the University will select the top three winners.
"We have a very generous merit-based scholarship program that looks closely at a student's academic profile," said Kevin Schultz, Assistant Director for University Marketing and Digital Innovation. "This additional scholarship program allows us to augment those offerings by building a relationship with students that goes beyond their GPA and test scores."
About WizeHive
WizeHive offers a cloud-based platform that automates an organization's forms, workflows and business processes. These tools have been used to automate contests with WizeHive's Online Contest Software; scholarships with WizeHive's Scholarship Management Software; sales processes and more.
About The University of Dayton
Founded in 1850 by the Society of Mary (Marianists), the University of Dayton is a top-tier, national, Catholic, research university and Ohio's largest private university. In the Marianist tradition, the University of Dayton prepares students to ask challenging questions and prepare themselves to adapt to a world with ever-changing needs. Visit the University of Dayton at http://udayton.edu.
###