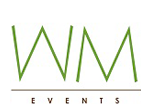 Atlanta, GA (PRWEB) March 13, 2013
After nearly a decade flying solo in the event planning industry, Principal and Founder William Fogler has grown WM Events into a bi-coastal firm that works with clients like independent art galleries, international corporations, sophisticated families and pace-setting charities. Firmly ensconced in the Atlanta and Denver markets, the boutique event planning company has now expanded its team, launched a gorgeous new website and formed a variety of strategic business-to-business relationships that enable Fogler to produce innovative affairs that astound guest after guest.
The talent of the WM Events team reveals itself in the fresh look of the new website and its contents – images from the company's numerous and considerably diverse events. While some companies focus on only one or two aspects of an occasion, WM Events handles complete event planning and implementation as well as design and theme consultation. Blushing brides, nervous social party givers and seasoned corporate planners alike have turned to Fogler to bring their vision to life or to help them create a vision out of thin air. This is why the WM Events current client list includes Microsoft, Chipotle, Kids II and Kimberly Clark.
In addition to Fogler, the team features Event Designer and Communications Director Leigh Clemmons, a graduate of Emory University who spends her free time with photography and DIY projects; Designer Robert Booth who holds a BFA in Interior Design from Georgia State University and brings a strong conceptual edge to the team and Marketing Coordinator Melissa Winkler, another Emory University grad who can claim mad writing and marketing skills.
Together, these event powerhouses create corporate events, social affairs and weddings to the tune of sometimes several events per week. Even with this busy schedule, Fogler makes it a point to work with Atlanta non-profit community agencies that are close to his heart including Caring For Others, Children's Healthcare of Atlanta Hughes Spalding (Fogler sits on the Board), Hands on Atlanta and Pink Power Moms.
The forecast for 2013 looks promising. In fact, this could be the year Fogler makes inroads into becoming a household name.
About WM Events:
WM Events was founded in 2004 by award-winning designer, planner and consultant William Fogler. With offices in Atlanta and Denver, WM Events is a full service event planning and design firm that handles corporate events, high-end social affairs, weddings and any other sort of intimate or monumental happening.
WM Events is located at 767 Trabert Avenue, Atlanta, Georgia 30318 and can be reached at 678-251-6363.