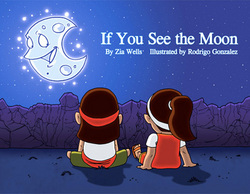 It's a win-win situation. They are engrossed in the stories and I have a new source of information for my www.WOCTO.com [lesson plans in language arts, math, science, and social studies. __title__ WOCTO]
La Jolla, CA (PRWEB) March 16, 2009
WOCTO (http://www.WOCTO.com ), an independent book publisher understands how the economy affects teachers in the classroom, parents at home trying to make ends meet, and kids looking for exciting ways to learn. To that end, they have produced a complementary set of grade-level lesson plans in core subjects, glossaries, flash games and activities for kids, available online for free. All educational enrichment materials tie directly to the four illustrated picture books and a children's CD in its current inventory.
"March is Small Press and Independent Publisher's Month and we wanted to let the public know what one publisher was doing to help parents and teachers provide fresh educational materials to kids," said Lin Jakary, publisher of the recently released collection. "We hired an educational consultant versed in the four core competencies to advise us on content and age-appropriate materials. Teachers and parents can go online to easily determine which of our books--pre-school, picture books, or early readers--are most appropriate for their child."
For example, I Lost My Sock is the story of a young boy trying to solve the mystery of his lost sock (with an online sock game aimed at observational and memory development). The Jakry Kids: Curiosity Shop captures the themes of family, friendship and cooperation (with an online maze game that speeds up and is good for memory, sense of direction and hand-eye coordination). If You See the Moon, set in New Mexico, features best friends Nimbu and Cirra, who dream up a plan to help the moon get home (with an online game good for logic development, memory and hand/eye coordination). Finally, Night Symphony, a whimsical bedtime story for toddlers and young children, features a sleepy child turning distracting sounds into a symphony. Valia Ovseyko, an acclaimed painter from Odessa, Ukraine, illustrates the book.
"Kids don't even realize they're learning," said Tina Clark, elementary school teacher for Garden City Schools in Garden City, Michigan. "It's a win-win situation. They are engrossed in the stories and I have a new source of information for my lesson plans in language arts, math, science, and social studies."
Another source of education for students is WOCTO's environmental or "green" focus. Books are printed in the US utilizing soy-based inks. In addition, WOCTO books have been tested for lead, and comply with the recent Consumer Product Safety Improvement Act (CPSIA 2008). (Their Certificate of Compliance is online.) "We tell teachers and parents that we are also a sustainable publisher, hoping they will share the concept with kids," Jakary explains. "For example, kids are curious to learn what is meant by an environmental footprint and what that might mean to their future."
WOCTO is one of only a handful of small publishers for children in the San Diego region. Featured in Baker & Taylor's March 2009 Books for Growing Minds, a compilation of the newest selections in children's literature, WOCTO is committed to making an ongoing contribution to literature and education. Recently discovered walking octopuses inspired the Company name, WOCTO. On that theme, its mission is to produce beautiful books and music and reach out to parents and teachers with "its tentacles" of support in the form of educational enrichment materials. WOCTO is located at 7460 Girard Avenue, Suite 5, La Jolla, CA 92037. For more information, visit the Web site: wocto.
# # #