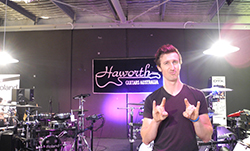 that we are in a position to expand in this way is testament to the commitment of our management and staff to exceptional customer service
(PRWEB) March 28, 2013
Haworth Music Centre has announced that the location of its new store will be in Wollongong, NSW. The expansion of the highly-regarded retailer of musical instruments occurs at a time when its competitors are closing their doors.
"We are very excited about the new Wollongong store, and that we are in a position to expand in this way is testament to the commitment of our management and staff to exceptional customer service - both online and in-store" said Manager, Glenn Haworth.
"That commitment has led to a very loyal customer base for Haworth, with whom we connect in person, via our website, and, increasingly, through our Facebook page."
Haworth's flagship location, at Albion Park, reflects the needs of its in-store customers - with dedicated drum room and guitar room. The new Wollongong store will expand on this 'specialty room' concept, with the addition of an amp room.
"We love hearing our customers get hands-on with a Fender Guitar or the locally made Maton Guitars in the guitar room" said Mr. Haworth. "And having a dedicated drum room gives people the opportunity to find the kit that's right for them."
The company was recently named as the top selling retailer of Maton Guitars for 2011/2013, for the second year in a row.
Musical Instruments Online
Hand-in-hand with the expansion to a second store, is the growth of the Haworth online shopping facility.
"Our online sales of instruments, including Yanikai Ukuleles and Yamaha Keyboards have made a positive impact on our business, and the customer service for which Haworth is known extends to our online shoppers" said Mr. Haworth.
"However, it is in the accessories area that our online sales have really taken off. Our range of home recording equipment is allowing musicians to record and market themselves with a level of professionalism that was, in the past, unheard of."
Haworths Wollongong
The exact location for the Haworth's Wollongong store is still under wraps, but on the company's Facebook page the tongue-in-cheek descriptions tells us that it will be 'full of mildly attractive Haworth employees and superbly attractive instruments'!
For updates on the Haworth Wollongong store details visit HaworthGuitars.com.au
About Haworth Music Centre
Luthier, Phil Haworth established Haworth Guitars in 1999, with a focus on building and repairing stringed instruments. In 2000 the transition from workshop to retail space was made, and in 2008 the two-level Haworth's Music Centre, with adjacent Warehouse, was opened in Albion Park Rail, just south of Sydney, Australia.
Phil has returned to his love of guitar-building and the business is now run by his son, Glenn, who in 2011 became General Manager. The Haworth team is comprised of young people who live their passion for music and musical instruments.
Haworth's ability to remain very competitive in an online world rests with its warehousing capabilities and strong online presence.
Visit the Haworth website at http://www.haworthguitars.com.au/