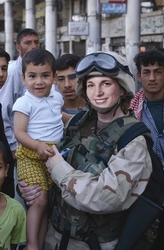 Ferndale, WA (Vocus) March 13, 2009
According to the U.S. census bureau there is currently a total of 198,400 active-duty women in the military. Women's struggle for inclusion and equal rights in the U.S. military is a rich part of women's history.
The first American woman soldier--Deborah Sampson--enlisted in the Continental Army during the American Revolution. Because women were not eligible to enlist in the military at that time, Sampson disguised herself as a man. After sustaining injuries after a year and half of service, Gen. George Washington gave Sampson an honorable discharge from the army at West Point. Years later Sampson successfully campaigned publicly to receive a pension from the U.S. Army for her service. Her success bridged the gender gap in veterans' benefits for many years to come.
Other women throughout American history including women in various roles during World War II, Korean War and every armed conflict to the present have paved the way for today's women service members to participate in combat, command roles and senior leadership positions.
In remembering these great American women service members of the past, Subscriptions for Soldiers asks Americans during National Women's History month to honor American women serving in the military right now who have dedicated their lives to the ideas of the pioneering women soldiers through their service to our country.
Show appreciation to an active-deployed service member with a gift that lasts all-year long--a magazine subscription. For just $10, donate to a service member you know or be paired anonymously with a service member through Subscription for Soldiers' database of requests at http://www.subs4soldiers.com .
More than 3,000 service members have signed up to receive their favorite magazine. Choose from 30 magazine titles like Outdoor Life, Field & Stream, Shape and Star to donate.
About Subscriptions for Soldiers
Subscriptions for Soldiers provides citizens and corporate sponsors the opportunity to show support to troops deployed overseas by sponsoring a magazine subscription. Service members sign up for free one-year subscriptions at http://www.subs4servicemembers.com . Subscriptions for Soldiers then pairs that service member's request with a subscription sponsor. Individuals who want to sponsor a service member's subscription visit http://www.subs4soldiers.com and make a donation of $10 or more to give a free subscription to a service member overseas. Subscriptions for Soldiers connects service members, those they serve and the life we all cherish. For more information on Subscriptions for Soldiers, visit http://www.subs4soldiers.com or call (800) 673-1289.
About Magazines.com
Magazines.com is the oldest, the largest and the most dependable magazine subscription service on the Internet. We are a privately-held company based in Franklin, Tenn., a suburb of Nashville.
With more than 1,900 titles available, Magazines.com offers people a fun, easy way to discover new magazines and helps them track subscriptions. Magazines.com is the leading independent agent selling subscriptions, serving customers online at Magazines.com and by telephone at 800-MAGAZINES (800-624-2946.)
# # #