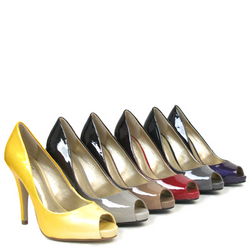 City of Industry, CA (PRWEB) July 11, 2008
It is now the perfect time to bear those perfectly toned legs, well-sculpted arms and shoulders, flawless back and oh-so-perfectly sexy feet, as summer is now on the peak of displaying its warm golden sunshine on the populace. The best way to compliment those short and skimpy summer dresses is having the perfect pair of women's shoes on those fine feet.
Online women's shoes retailer MakeMeChic.com has launched new styles of the trendiest women's shoes that will keep women in vogue for the whole summer season. Topping the list for the summer's must-haves in women's shoes are:
Gladiator Sandals
This style of women's shoes is perfect for a casual day or night out in town. Choose from bold colors to metallics, these sandals are definitely hot this summer.
Color Block Shoes
Gone are the days when different colors mix subtly to create a smooth effect. The color-block style in women's shoes is one of the most popular trends this summer.
Colors in Patents
Bright colored women's shoes should be a part of any woman's shoe closet this summer. The glossy finish is just ideal for this season's trend.
Exotic Animal Prints
Unleash one's inner wild side with these women's shoes in exotic animal prints. They are bold and stylish, perfect for summer parties.
Ombre Women's Shoes
Some people call it shadowed shoes, gradient colors, or multi-shaded shoes. This style of women's shoes is making waves this summer. It is the perfect way to break away from the solid colors without giving in to prints.
The Goddess Effect
Yes, the goddess look is becoming popular. It merely a simple yet elegant style - metallics. These styles of women's shoes showcase the feet and bring a subtle shine through gold and silver straps.
The Shoe-Boot
The hottest fashion movie of the summer, Sex and the City, showcased a variety of women's shoes. Most prominent of which is the shoe boot. If the SATC girls are wearing it, it definitely is a hot choice!
Moccasins
The traditional Native American footwear, the moccasins, has come back after disappearing for a long time. Made even more stylish, these soft and comfy women's shoes are another alternative for ballet flats.
Of course, slingbacks, platforms, are wedges are still part of the summer's list of the trendiest women's shoes. Click here to see a glossary of terms associated with women's shoes.
With MakeMeChic's constantly updated array of women's shoes, women would not have to look further for the top season's picks. Considered as one-stop-shop and a women's best online shopping partner, MakeMeChic is surely a store that can quench any woman's desire to have the most popular shoes.
About MakeMeChic.com
MakeMeChic.com is every woman's partner when it comes to fashionable finds. Based in the City of Industry, CA, MakeMeChic.com is an online store that specializes in trendy women's shoes and apparel. With over 50 latest styles of women's shoes and apparel arriving weekly, a woman will never be out of style.
###