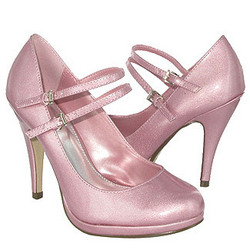 City of Industry, CA (PRWEB) March 27, 2008
After wearing those thick and heavy coats and fleece-lined boots, now is the perfect time for those feet to feel the fresh air of spring time. Spring time has finally arrived and with it comes a whole new fashion adventure, especially when it comes to women's shoes. It is the season to flaunt those finely manicured feet and rose-colored soles with the best and latest styles of women's shoes.
With springtime in now full swing, MakeMeChic.com is launching its whole new line-up of women's shoes that suits the season oh so perfectly and not to mention, dresses the feet flawlessly. With MakeMeChic.com's new styles and designs of women's shoes, a woman's feet have never felt this sexy and ultra comfortable at the same time.
Creating quite a stir is the company's newly arrived line of sandals - from gladiators, thongs, and bejeweled styles. As the season's trend in women's shoes also calls for platforms and wedges, more and more styles have been added to the chic collection of MakeMeChic.com. With more of the latest designs of women's shoes added week after week, ladies are sure to have the top picks for the entire spring season.
MakeMeChic.com is a company best known for its online prowess. This online giant is considered as a woman's best online shopping partner in getting the hippest and hottest trends in women's shoes. Known for its keen eye for what is the hottest in women's shoes, this company constantly keeps itself fully stocked with the latest designs, all in various colors, and only sells the best made women's shoes.
Be the first to know the newest arrivals of women's shoes. Simply sign up to be in their newsletter and be informed of the latest arrivals, promotions, and trends in women's shoes.
About MakeMeChic.com
MakeMeChic.com is every woman's partner when it comes to fashionable finds. Based in the City of Industry, CA, MakeMeChic.com is an online store that specializes in trendy women's shoes and apparel. With over 50 latest styles of women's shoes and apparel arriving weekly, a woman will never be out of style.
###