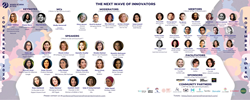 "Diversity and Inclusion is everyone's responsibility. To create diversity and to be inclusive means having ALL Women at the table, which includes MENA Women In Tech", said Sepideh Nasiri, Founder of Women of MENA in Technology. "As technology becomes more integrated in our society and creates a new
SAN FRANCISCO (PRWEB) November 05, 2020
MEDIA ADVISORY FOR: Thursday November 5, 2020: 8:00 AM PST
Thursday 8:00AM: Women Of MENA In Technology Announces its Third Annual Conference "The Next Wave Of Innovators"
Women Of MENA In Technology, a Silicon Valley-based Non-Profit organization will be hosting its Third Annual Conference, The Next Wave of Innovators, on Nov 5-6, virtually. Founded with a mission of fostering diversity and closing the gender gap by empowering Middle Eastern and North African women in STEM, the event will address issues of inclusion and equality.
"Diversity and Inclusion is everyone's responsibility. To create diversity and to be inclusive means having ALL Women at the table, which includes MENA Women In Tech", said Sepideh Nasiri, Founder of Women of MENA in Technology. "As technology becomes more integrated in our society and creates a new paradigm, it is up to us to be intentional about equity, inclusion, and diverse representation in the STEM space."
The Next Wave of Innovators is a first-of-its-kind conference, bringing together speakers and attendees that have been powerful catalysts of change. Women (and men) entrepreneurs from the Middle East and United States will take center stage and provide insights on the global technology landscape. They will delve into the topics of innovation, diversity, funding, and leadership. Companies like Amazon, Ernst & Young, Microsoft, Careem and speakers from Beautycon, Egypt Ventures, Global Entrepreneurship Network Saudi, Google, IBM, SAP and others are participating in the event.
SPEAKERS include: Sepideh Nasiri (Women Of MENA In Technology), Hoda Mansour (SAP Egypt & New Frontiers countries), Moj Mahdara (Beautycon), Heba Sayed (IBM Middle East and Africa), Rosie Roca (Hopin), Shanti Ariker (Twilio), Amal Dokhan (Global Entrepreneurship Network Saudi), Jocelyn Mangan (Him For Her), Kamelia Aryafar (Google), Nooshin Behroyan (Paxon Energy & Infrastructure Services), Laila Hassan (500 Falcons, 500 Startups), Roya Mahboob (Digital Citizen Fund, Bright Citizen), Hoda Gerami (Amazon), Heba Ali (Egypt Ventures) and many more!
Conference page: https://pwit-womenofmenaintech.com/
Over the five years since its inception, Women of MENA in Technology has been instrumental in elevating the profile of MENA Women. With a community of 35K+ members across 17 global cities and support from 1500+ technology companies, the non-profit has been enabling, educating, elevating and inspiring women of color through its programs.
**FOR MORE INFORMATION, OR TO RSVP FOR THE PRESS LIST PLEASE CONTACT: press@womenofmenaintechnology.com**
About: Women Of MENA In Technology is a Non-Profit 501(c)(3) Organization established in Silicon Valley in 2015 with a mission to close the diversity and gender gap in STEM by connecting, mentoring, educating and elevating Middle Eastern and North African women in STEM globally. We have over 35,000 community members, 90% of whom identify as technical and self-reported as engineers, data scientists, researchers, founders, intrapreneurs, entrepreneurs, innovators and investors.
Vision: To be the destination for Middle Eastern and North African Women in Tech, where they can learn, inspire, connect, and thrive as a global community
Mission: To empower Middle Eastern women and girls around the world to strive in the fields of technology, STEM, innovation, and entrepreneurship despite the conventional beliefs, societal pressures, or inequality challenges. http://www.womenofmenaintechnology.com