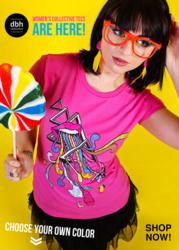 chico,ca (PRWEB) March 26, 2013
The women's graphic tees are 100% cotton premium tees which are available in 10 different colors with hundreds of designs. The new Collective shirts are printed with direct to garment printers on premium blend cotton shirts. This makes completely custom experience in finding a creating a custom t shirt.
Design By Humans specializes in fun, cute, geeky, illustrative, modern and abstract t-shirts. There has always been a variety of designs, but now there will be hundreds more specialty artworks to choose from. Ladies can wear graphic t-shirts from artists such as illustration masters hydro74 or qetza, the creative touch of dzeri29, expo, or kdeuce. New popular designs like wild "Pop thing", are available in white, grey, black, pink, purple, red, navy and light blue.
The summer months will be full of new designs and custom color options from t shirt designers uploading new designs. The women's stores will feature cute, cartoons, minimalist, pop culture, detailed illustration and funny tees. They're form-fitting for a women's body for a comfortable firm fit. The new tees still follow Design By Humans sizing chart. The women's shirts are slimmer fit junior's sizes.
The Women's graphic tees are high quality direct to garment printing making great art reproduction on shirts. The quality of the print, shirt and artwork make a great combination for a new spring look. This also allows for a variety of custom color choices so each shirt has a unique personality. There are always new designs at DesignByHumans.com, between the daily contest winners and the new entries from over 40 Collective artists stores. The custom options for this shirt, new ideas and new artists joining the network.
DesignByHumans
Design By Humans is an online community for t shirt design and graphic artists. Everyday $1000 is awarded to daily contest winners and new designs are added to the Collective. Now for the first time girls have a chance to pick any Collective design, with 10 different shirt colors. This makes finding a custom look this summer an easy task. There are shirts for every category from abstract to funny, geek and fine art illustrations. Design By Humans is known for the creative characters, unique compositions and intriguing patterns. The complete online community of t shirt designers and fashion lovers is constantly innovating product lines and website features. Enjoy 1000s of creative designs and custom colors for both men and women's graphic tees now at Design By Humans.com