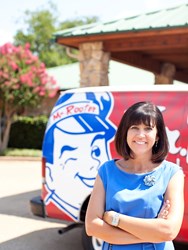 I have found that no matter your gender, business is business...
Waco, TX (PRWEB) March 18, 2013
100 years ago this month, over 5,000 women marched on Washington, DC to bring attention to the inequalities of women in our society. Today, women are heralded as industry leaders in the fields of education, business, military and politics. Mr. Rooter® Plumbing celebrates March and Women's History Month by recognizing Mary Kennedy Thompson, President of Mr. Rooter LLC.
"I was raised to believe I could achieve anything I set my mind to," stated Thompson. "I have worked very hard to reach my goals, and am humbled by my successes. I have had a lot of help along the way."
Thompson has served as President of Mr. Rooter LLC for six years, achieving numerous professional goals, including running her own franchise and winning the prestigious International Franchise Association's Bonny Levine Award. "Being a woman in a this industry has been exhilrating, and I have found that no matter your gender, business is business, and applying a combination of great customer service with our hiring and retaining outstanding staff has lead to great success."
In six years, Thompson has seen a 39% increase in franchise units through the application of solid business skills, a focus on customer care and the utilization of expert knowledge.
"Mary is a bit of a star in the industry," states Dina Dwyer-Owens, CEO of The Dwyer Group, Mr. Rooter's parent company. "No matter the situation, Mary has risen to the challenge and succeeded. We are proud to have her on the Mr. Rooter team."
Women, like Thompson, who have embraced the opportunities afforded them by our ancestors' struggles, continue paving the path for future generations of women to proudly walk.
About Mr. Rooter®:
Established in 1970, Mr. Rooter is an all-franchised, full-service plumbing and drain cleaning company with over 300 franchises worldwide. Recognized by Entrepreneur magazine among its "Franchise 500" and Franchise Times Top 200, Mr. Rooter franchisees provide services to both residential and commercial customers. Mr. Rooter began franchising in 1974 and is a subsidiary of The Dwyer Group, Inc. For more information or to find the location nearest you, please visit our Web site at http://www.mrrooter.com.