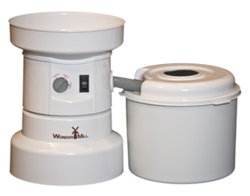 All you have to do is plug it in, add whatever you please and it's done.
Vernon Hills, Illinois (PRWEB) March 29, 2013
Zadoozy, the Internet's best source for top performing products for the home, announced today that it has been authorized to sell WonderMill grain mills, Thumper massagers and the Pure Water brand of water distillers.
The complete line of WonderMill grain mills is available today to walk-in customers at the Zadoozy showroom in Vernon Hills, Illinois. The showroom displays a number of premium products according to company co-founder Matt Delfino, including IQAir air purifiers, SEBO and Miele vacuum cleaners, Omega and Hurom slow juicers, Rancilio and Jura espresso machines, and Ladybug steam cleaners.
"We're excited about WonderMill," says Delfino. "Their flagship mill, the WonderMill Grain Mill, is a very capable electric device that will grind just about anything from wheat, rice and other small grains to legumes and garbanzo beans. You can even grind unpopped popcorn. All you have to do is plug it in, add whatever you please and it's done."
Zadoozy decided to team up with Thumper after attending the International Housewares Show in Chicago and seeing firsthand the level of quality Thumper puts into each massager. "We feel very comfortable letting our customers know that they are buying a top of the line massager," says Delfino.
When discussing the Pure Water countertop water distillers, which are as easy to use as a coffee maker, Delfino says, "Pure & Secure is the leading producer of premium water distillers. The two Pure Water models we offer do not require installation, and are built tough to handle all your water needs for years to come."
Offering only the best of the best, Zadoozy, a take on the slang term 'doozy,' meaning something that is extraordinary, has tested hundreds of products and markets only those that have passed their toughest tests. The company caters to the needs of busy consumers nationwide who don't have the time to comparison shop for themselves and their families.
Zadoozy is so confident that shoppers will love their products that they offer a 90-day money back guarantee.
Headquartered at 1000 Butterfield Road, Suite 1029 in Vernon Hills, Illinois, Zadoozy is an authorized dealer for each brand they sell. Shoppers can keep abreast of the latest news with Zadoozy's Twitter and Facebook accounts, @zadoozy and http://www.facebook.com/zadoozy. Zadoozy is a proud member of the Safer Chemicals, Healthy Families coalition, a nationwide effort to protect families from toxic chemicals.