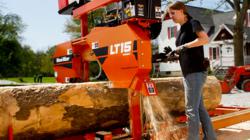 Indianapolis, Indiana (PRWEB) September 14, 2012
How are thousands of homeowners and businesses across the country able to turn their own logs into lumber? Wood-Mizer portable sawmills make it possible for anyone to saw their own lumber to use for projects - everything from furniture to log homes.
Wood-Mizer's release of high quality product videos enable people unfamiliar with the portable sawmill concept to see how easy sawing their own lumber actually is.
Manual sawmills (LT10, LT15, LT15GO, LT28, LT35 Manual, and the LT40 Manual) do not come with hydraulic log handling features, so loading and rotating logs on the sawmill is done with the help of a cant hook. The new sawmill videos for the manual mills show how sawing lumber with a Wood-Mizer is a safe, one-person operation.
Hydraulic sawmills (LT35HD, LT40HD, LT40 Super, LT50, and the LT70) all come with hydraulic log handling features that load, rotate, clamp, and adjust the log on the sawmill. These sawmills also feature higher horsepower engines, and larger log capacities than the manual mill models. While all Wood-Mizer sawmill cut accurately and efficiently, the new hydraulic sawmill videos show the increased productivity that is achieved with Wood-Mizer's hydrualic line.
To view the new sawmill product videos, visit Wood-Mizer's website or YouTube page.
###
Wood-Mizer, celebrating 30 years of building portable sawmills, offers an extensive line of portable and industrial sawmill equipment. The company supports its equipment with legendary customer service, blades, and blade maintenance equipment. For more information about Wood-Mizer Products, call 800.553.0182 or visit http://www.woodmizer.com.